Thousands of Russians have marched through Moscow to remember Russian opposition leader Boris Nemtsov, who was gunned down two years ago and to call for further investigations into his killing.
Nemtsov, a fierce critic of Russian President Vladimir Putin, was gunned down close to the Kremlin on 27 February 2015. A number of rallies have taken place across Russia in his honour.
Five Chechen men are now standing trial accused of Nemtsov's murder, but lawyers for his family say the investigation has failed to identify who ordered the killing.
"We gathered here to demand bringing of Boris Nemtsov's killers to justice, not only its performers but also its organisers and those who ordered it," Russian opposition activist and organiser of the march Ilya Yashin told Reuters.
"We gathered here to demand political reforms and release of political prisoners."
Nemstov, a former deputy Prime Minister of Russia under Boris Yeltsin, was walking across the Moskvoretsky Bridge with his Ukrainian girlfriend after eating at a restaurant when he was gunned down.
At the time of his murder Nemstov, seen as a democrat and a reformer, said he had proved the Kremlin's direct involvement in a separatist rebellion in eastern Ukraine.
Russia has denied accusations they are linked to the Ukrainian faction and any involvement with his death.
The marchers chanted "Russia will be free!" and "Putin is war!" but were not given permission to walk over the bridge where he was killed – although some laid flowers near where he was shot.
Some carried flags, posters and quotes from Nemtsov that included: "The war with Ukraine was a crime of Putin" and "I am against the annexation of Crimea".
One marcher, Galina Zolina, told Agence France-Presse (AFP): "We came to pay tribute to the honesty and bravery of Boris Nemtsov. We want to show the authorities that we haven't forgotten."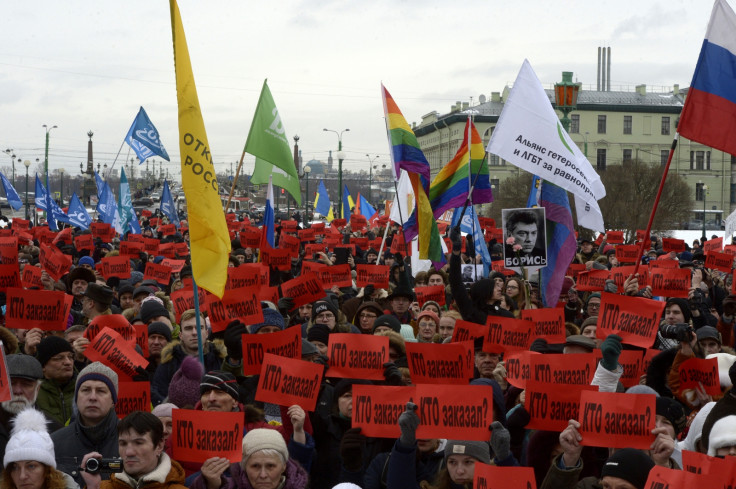 Although devoid of serious violence at one point green ink was thrown into the face of former Prime Minister Mikhail Kasyanov who is a critic of Putin.
Last year Kasyanov's image in cross heirs was posted online by Putin ally and Chechen President Ramzan Kadyrov on his social media account.
It has been reported that the man who killed Nemstov, Zaur Dadayev, was a former officer under the command of Kadyrov. The Chechen leader has denied any link to the killing.
Also on Sunday 26 February, anti-Kremlin activist Ildar Dadin, who was the first person jailed under new laws targeting protests, was released from a Siberian prison.
Dadin, who said he was tortured whilst in prison, was serving a two-and-a-half year sentence for violation of Russia's Article 212.1, a law introduced in 2014 which banned protests without official permission.
Russia's Supreme Court overturned his conviction on Wednesday.