Thousands of tourists caught up as earthquake hits Greek island of Kos
Up to 8,000 Brits on island hit by 6.7 magnitude earthquake that claimed two lives and injured up to 200 people.
Nearly 8,000 Brits holidaying in the Greek island of Kos face travel disruption after a 6.7 magnitude earthquake hit the region, close to neighbouring Turkey, late on Thursday (21 July), resulting in two deaths and injuries to 200 people.
Several injuries were also reported at the nearby Turkish resort of Bodrum. The two fatalities were said to be nationals of Sweden and Turkey, who are yet to be identified. Travel companies First Choice and Thompson said a "handful" of their British customers had suffered minor injuries.
A spokesman for the Foreign Office also confirmed British nationals were among the injured, and that those travelling out to the region must take advice from their tour operator amid conflicting reports.
Flights in and out of Kos were cancelled on Friday (22 July) morning, leading to a number of delays, with the airport's operator only allowing restricted access to the terminal.
Images of tourists sleeping and huddling outside the airport terminal have been widely circulated by newswires.
The European Organisation for the Safety of Air Navigation has also reported "heavy flight delays" at Kos but, a spokesperson for the Greek government said the airport was operational and the roads were "in good shape". Local ferry traffic to Kos is being rerouted to the neighbouring island of Kalymnos, he added.
In a statement, Thomas Cook said its customers in Kos were evacuated from hotels "as a precaution" to allow a damage assessment, but that most had since returned."
"While a minimal number of properties do not currently have mains water supply and are experiencing intermittent power problems, utilities should be back to normal later today. Our teams in the resort areas affected by the earthquake and in our customer centres are supporting customers currently on holiday in the region," it added.
Subsequent communiques from Thomas Cook, Thomson and First Choice said flights scheduled for Saturday will operate as normal and hotels will operate normally.
Meanwhile, a row has erupted after several media reports cited customers booked to travel to Kos having been denied the right to cancel their holidays following the earthquake.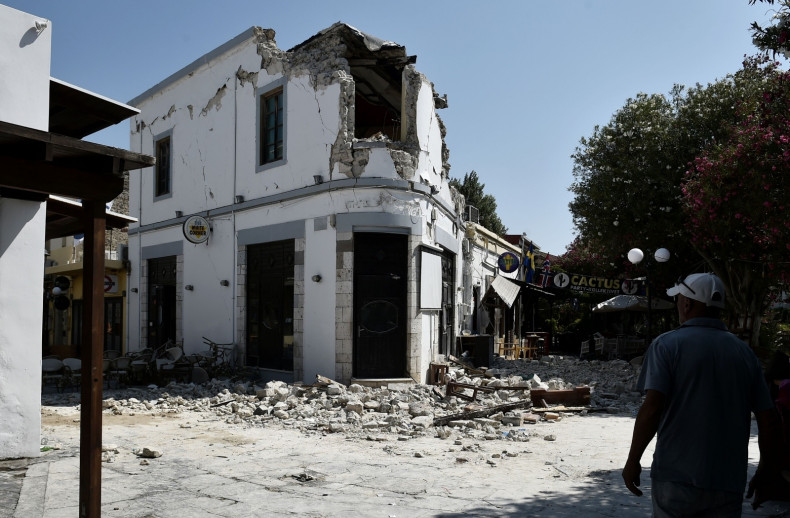 According to the MailOnline, Gary Taylor, 51, of Newton Abbott, Devon, was told he could not have the £2,800 ($3,637) he paid for a holiday to Kos refunded due to the "terms and conditions" of his package deal with Thomson.
"I said I wanted my money back but they told me 'no' and that it was safe. But Kos is not going to be rebuilt in a week and I asked if they could guarantee me the buildings there and my hotel were structurally sound and they couldn't," Taylor added.
However, the travel company said it was proactively addressing the concerns of its customers. "We are also working closely with our teams in resort and the authorities to provide assistance to those affected."
Meanwhile, Thomas Cook has said any of its customers due to travel to the region who are concerned about the situation would be offered an "alternative holiday destination."