Two young boys sustained serious injuries after the bouncy castle they were playing on was hurled into the air by a gust of wind in New York.
Three children had been inside the inflatable toy before it was hoisted metres into the air.
Two boys, aged five and six, and a girl aged 10 later dropped out of the floating toy from a height of about five metres in what has been described as a "freak accident".
One of the boys suffered a traumatic head injury after reportedly hitting his head on a car as he fell, according to American broadcaster News Channel 13. The girl walked away with only minor scrapes while the second boy sustained broken bones.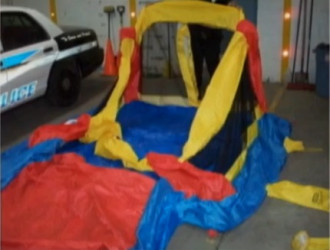 Eyewitness Taylor Seymour, whose sister had been with the 10-year-old playing on the toy, said: "The first thing I thought was that was my sister falling through the sky, because all I saw was arms and legs going.
"It dropped off the first little kid in the middle of the road, then it came the other way, it passed over my apartment, it dropped the second one, he hit his head on the back of my car and then he fell to the ground."
Another witness said that a man had appeared to properly fix it into the ground while setting the toy up.
The Little Tikes bouncy castle continued to soar higher into the air after the children had fallen, floating over a stretch of woods to heights of approximately 15 metres (50 feet) before it landed in a school's athletic field.