Two people have died and millions have been stranded as the UK battles torrential rains and gale force winds.
A man and a woman died in river incidents in Cumbria and North Wales, while in Horsham, West Sussex, two children were treated for minor injuries after being hit by branches from a falling tree.
Millions of people were struggling to get home in time for Christmas after the violent storm and winds of up to 87mph resulted in road closures and delays on railway lines, ports and airports across the country.
And with damage to power lines across the country, 6000 homes are without electricity.
There are 57 flood warnings and 218 flood alerts in place across the country, with Met Office forecasters issuing a severe weather warning due to 90mph winds and flooding caused by torrential rain.
The Environment Agency reported 'extremely dangerous' conditions in the South West and warns there is 'danger to life'.
On the busiest travel date of the year, Christmas travel plans have been severely disrupted as the country's transport network was failing to cope with hurricane-force winds and torrential rain.
Passengers have been urged to board any available train as hundreds of services have been cancelled, with train speeds reduced to 50mph to contend with the adverse conditions.
Network Rail Managing Director Robin Gisby said Virgin trains were doing their best to keep trains running over the next 48 hours. "Our fundamental concern over the next 48 hours is to get everyone where they want to be for Christmas.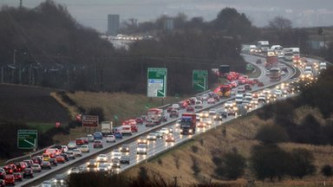 "It won't be an easy task given the forecast conditions and disruption is likely - but I want to be very clear that our priority is running as many trains as we can safely, rather than worrying about hitting the timetable bang on."
Traffic on major routes is at a standstill as roads and bridges are closed because of flooding and dangerously high winds.
Motorists were urged to be take special care on the roads and check the flood updates ahead of their journey, as the AA reported it was dealing with 1,100 breakdowns every hour.
The Environment Agency and the AA strongly advised not to enter flood water that is moving or more than 10cm deep. David Jordan, Director of Operations at the Environment Agency, said: "Tragically people die because they've taken risks and attempted to drive through flood water just to save a few minutes.
"Flood water is dangerous. If there is widespread flooding in your area then don't travel and if a road is closed then turn around and make a detour."
The RAC is predicting that 13 million people will take to the roads from December 24 to 26. With thirty flights cancelled from Heathrow Airport airline and ferry passengers have been advised to contact carrier before travelling to airport or port.
In London, Royal Parks officials have closed Hyde Park, Kensington Gardens, Richmond Park, Bushy Park, St James's Park and Green Park due to the high winds expected overnight.
Visitor attractions such as London's Winter Wonderland have closed as gusts and heavy rain are set to intensify ahead of Christmas Day.
While severe conditions are expected to continue for 36 hours, there will be brief respite from the unsettled weather on Christmas Day and Boxing Day, forecasters warn the worst is yet to come as a second storm is set to batter the nation on Friday.