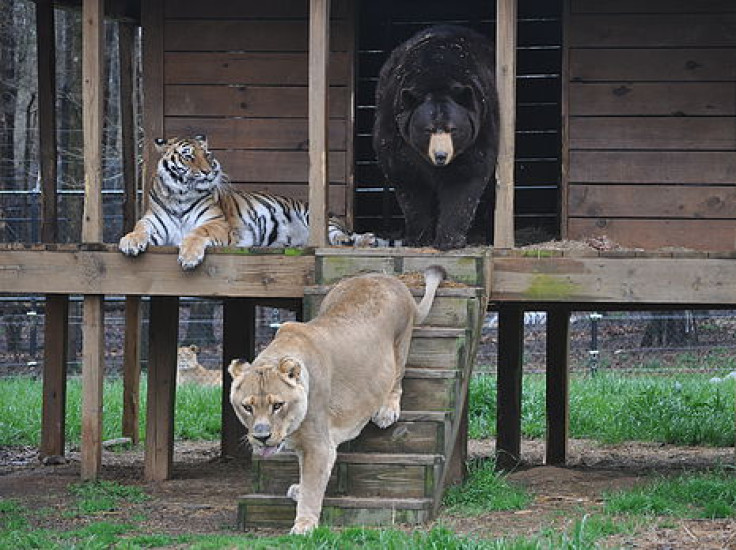 In a tale that seems more like an extract from The Jungle Book than a US zoo, a bear, a lion and a tiger have formed an unlikely friendship that has lasted more than 15 years.
Leo the lion, Baloo the American black bear and Shere Khan the Bengal tiger were brought into Noah's Ark Wildlife Sanctuary as cubs in Georgia in 2001, after being rescued from the basement of a house in Atlanta, where they were kept locked in tiny cages and mistreated.
It is claimed the animals were brought by a drug dealer who wanted to keep big cats, with the 12-week-old animals found after a drug raid on the property.
When the three animals were brought into the sanctuary, they were in a terrible state. Baloo was in the worst shape, needing an operation to remove a harness that was so tight his skin had started to grow over it, the sanctuary said.
The operation was the only time the three animals have ever been apart, and Baloo was soon reunited with the lion, which had been treated for a small wound on its face made by the tiny cage, and the tiger, which was treated for malnourishment and parasites.
The trio have been inseparable ever since, and all live together in an enclosure at the sanctuary called the clubhouse.
The sanctuary said on its website: "Baloo, Leo and Shere Khan eat, sleep, and play together and even seek out grooming and affection from one another, head rubbing and licking each another. Their terrifying early months in life bonded the three together and they are truly inseparable despite their obvious differences."