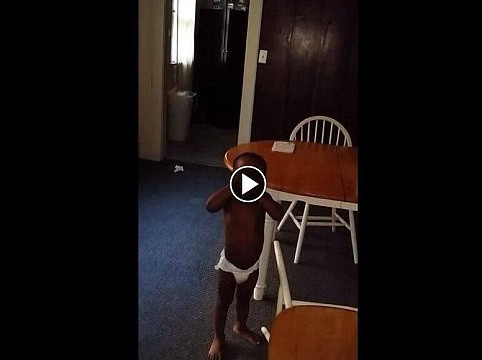 Nebraska child services have taken a toddler into protective custody, after a shocking video of the infant swearing and being bombarded with obscenities and racial slurs emerged online.
The viral video, which shows the young boy being encouraged to curse by adults off camera while wearing nothing but a diaper, sparked outrage when it was first posted on Facebook.
He can be seen knocking down a chair and repeating a slew of profanities and responding to some of the comments with a middle finger.
The unedited video shows the child calling an adult out of view of the footage a "b---- a-- n-----" and repeated "suck my d---" to a woman who asked him to use the phrase. He's also seen responding "You a ho, b----!" to an adult and giving the middle finger to the camera. Police haven't released the identity of the children's parents.
One critic said: "This genuinely has all the makings of a groundbreaking scientific experiment. Trained observers could follow said child's progress during the next few years, and note the results of his being raised by humans."
Another wrote: "The parents are exactly were they need to be. IN JAIL! So sad that this is how kids are being brought up today.#Shakingheadindissappoint&disbelief#"
Law enforcement said that four children, including the toddler were removed from the home.
This is not the first time the state has stepped in. In June, the department of health and human services starting monitoring the family in response to a neglect case.
But the toddler's 16-year-old mother, who cannot be named for legal reasons, insists she is not a bad mother.
"My son doesn't curse like that I don't allow it," she told CNN. " that video wasn't me it was a person that came into my house. For everybody that thinks im a bad mother im not im a good mother to my son.
The Omaha Police Officers union later defended its decision to posted the clip on its website to highlight what it called the "cycle of violence and thuggery" the community faces.
"The focus here isn't on any particular ethnic group. The focus here is on the troubling behaviour towards this child," Sgt. John Wells, the union's president, said. "This behaviour is going to potentially lead this child down a path that is completely unhealthy."