Freed Tibetan Monk Jigme Gyatso 'Still under Chinese Surveillance'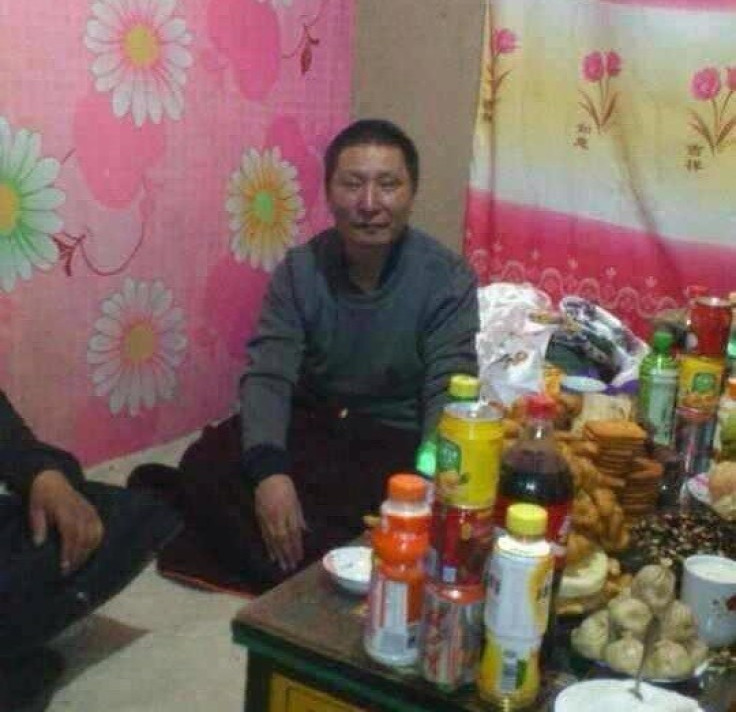 Jigme Gyatso, the Tibetan monk who has been freed after serving 17 years in Chinese prisons, "has no rights and freedom" and "still suffers under surveillance of Chinese officials" according to his best friend.
Jamyang Tsultrim, who lives in exile in Switzerland, told IBTimes UK he was "shocked" to see the condition of the man who founded the Tibetan independence movement, after his release from Chusul prison near the Tibetan capital Lhasa earlier this week.
During his time at Chusul and his former prison, Drapchi, Gyatso suffered mistreatment, torture and harsh cell conditions, leaving him with heart problems and high blood pressure. Tsultrim confirmed that he had suffered greatly in prison, saying:
"When I saw his picture two days ago, I was shocked, because I could see from his face that he suffered and still suffers from illness and pain. Generally he was being treated very badly even compared to other Tibetan political prisoners, because he was a man with great perseverance, strength and will.
"Everyone knows that the situation in Chinese prisons in Tibet is unbearable and inhumane for all political prisoners. In Chushu prison, Chinese officials separate political prisoners in groups from A to D according to their behaviour and obedience. They put Jigme Gyatso in the worst group D."
'Brutally tortured'
Gyatso, 52, was arrested in March 1996 and sentenced to 15 years in prison for leading a "counterrevolutionary organisation" and endangering national security.
Chinese authorities extended his prison term for another two years in 2004 for "inciting separatism" after he shouted in prison "Long live the Dalai Lama" and "Tibet is independent".
Amnesty International and other rights groups campaigned for Gyatso's release, designating him a prisoner of conscience who was "seriously ill as a result of torture and ill-treatment in custody."
Tsultrim, also a member of the Tibetan independence movement, said his great friend was "brutally tortured during interrogations".
"I heard that they took him out of the prison to a different place to torture and interrogate him very severely. The secret service policemen got drunk and put the beer bottles between the handcuffs and his back to hurt him even more."
Tsultrim's testimony echoes that of Manfred Nowak, the then-UN special rapporteur on torture who spoke to Gyatso in prison in 2005. After his visit Nowak urged the authorities to release Gyatso, citing the "widespread use of electric batons, exposure to extreme temperatures and sleep deprivation in Chinese prisons".
Gyatso was tortured with particular severity in May 1998, after he and a group of other prisoners shouted pro-Dalai Lama slogans inside Lhasa's Drapchi prison. All Tibetan political prisoners refused to salute the Chinese national flag and singing the Chinese national anthem, as required by the officials.
Nine other prisoners were shot on the spot for their behaviour during the Drapchi protest.
'No family, no rights and freedom'
China's decision to release Gyatso is "not a sign of easing tensions with Tibet", according to Tsultrim and other Tibetan activists.
"He has no family left. Jigme Gyatso's father was killed during an uprising against Chinese occupation when he was a baby and his mother died in 1997 after he was imprisoned, because she became mentally so worried about him," Tsultrim said.
"People might think he is free now. But I want to make clear that Jigme Gyatso still suffers under surveillance of Chinese officials. He still has no rights and freedom."
Pema Dolma, executive director of the Students for Tibet UK, confirms that it is not "uncommon practice" for the Chinese authorities to release a Tibetan political prisoner a year early "especially if they are in poor health".
"At best, he was released early because he fulfilled the conditions of his sentence and at worse it is a propaganda ploy to defect global attention from the deteriorating human rights situation in Tibet where 114 TIbetans have lit their own bodies on fire in recent years in protest," she told IBTimes UK.
She argues that public pressure played a key role in releasing the activist.
"Without global advocacy around his case, he could still be in prison or have faced a worse fate at the hand of the Chinese regime," she said.
© Copyright IBTimes 2023. All rights reserved.