Protests are planned across the world against alleged actions by Chinese authorities in Larung Gar, a centre for the study of Tibetan Buddhism in Sichuan province. Activists say that the town is seeing demolitions and forced removals for the second time in 15 years, as the government says it must bring down the town's population.
Larung Gar is thought to be one of the biggest communities for the study of Tibetan Buddhism in the world and is largely populated by monks and nuns. Designated an institute, rather than any kind of monastery, the settlement was founded in 1980 by Khenpo Jigme Phuntsok – this designation has meant Larung Gar has not had to deal with China's strict rules on monasteries.
True population figures are debated – some think it around 10,000 while others estimate put it as high as 40,000. Chinese authorities have said that population must be 5,000 by the end of September 2017. One Tibet scholar in the US told the LA Times that because of local politics, no one wants to admit the real number: "Officials in the area don't want to say because that will get them in trouble [with higher-ups], and the leaders of encampment won't say because that would cause problems with the officials who tolerated the growth for the last 10 to 15 years."
What's happening now?
In July, campaign group Free Tibet released images and video it said was of demolition work, starting one morning in Larung Gar. The group reported that a Chinese work team arrived at 8am accompanied by police and plain-clothed soldiers.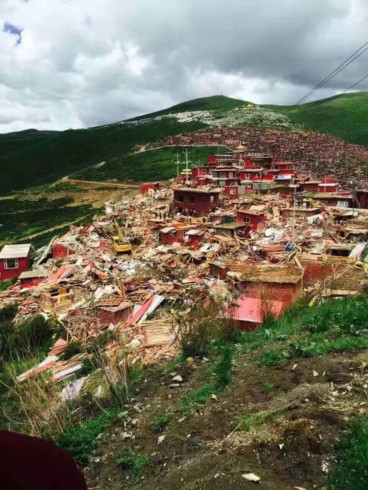 Some reports said that China was citing overcrowding as the main reason for actions in Larung Gar but residents questioned why that approach was not being taken in other more overcrowded areas of China.
In early October, the group released further images of levelled buildings, saying that 2,000 nuns had been asked to leave voluntarily, with those who did not comply risking forced removal. They also released videos showing visibly upset monks and nuns boarding departure buses.
In a statement to IBTimes UK, the Chinese Embassy in London called the reports of demolitions "rumours" and said that "it is common international practice to administrate religious sites in accordance with law".
"[Local authorites] aim to maintain order in the temples, provide better public and social services to the temples and their monks and nuns, eliminate risks in areas such as public security, fire control and public health, and create a good environment for the monks and nuns who are practising in accordance with law and in good earnest."
Free Tibet said that its local sources had reported that all but 100 of those from the Tibetan capital, Lhasa, had been removed and at least 2,000 homes had been destroyed.
Not the first time
This is second time report of demolitions have come out of Larung Gar. In 2001, Chinese authorities evicted thousands of monks and nuns as part of an early attempt to curtail the town's population. At that time the limit was put at 1,400 residents, and around 2,000 buildings are thought to have been demolished in the ensuing government action.
Reports from 2001 said officials stated that the measures were being carried out "at the order of central authorities" and were ''because of concerns about social stability". Though there is no official line yet from China about the current reported events, some in Larung Gar have said they were told it was down to worries about "overcrowding".
Human Rights Watch's China Director, Sophie Richardson said recently that the Chinese government should allow Tibetans to establish more institutes if they are really worried about overcrowding: "China's government should respect its own constitution and international legal obligations and permit full freedom of religious practice."
Protests against the current actions are being organised in cities around the world on 19 October, with London's taking place outside the Chinese Embassy from 4pm.