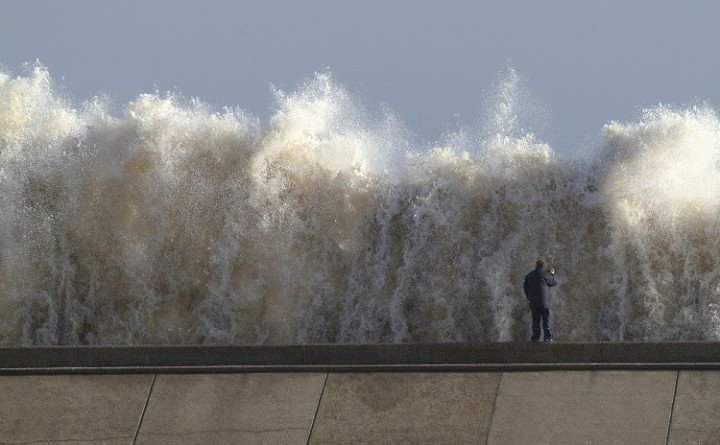 The huge tidal surge buffeting Britain is setting alarm bells ringing in the Netherlands and stoking fears of lives at risk and massive damage to property.
The Dutch version of the Met Office has put the country on a "code red" alert over the weather system roaring down the eastern coast of England.
Winds of more than 100mph and huge waves sent residents fleeing from 9,000 homes in Great Yarmouth while experts warned that tides could grow higher than those in the devastating floods of 1953. The Royal Netherlands Meteorological Society has warned people to stay indoors during the coming hours.
Train services were cancelled in Scotland amid safety fears and in the Netherlands there were no trains running in the northern provinces.
All floodgates in the north of the country have been closed in the hope of keeping at bay a huge tidal surge which could cause serious damage to the network of waterways.
The famous canals and dykes which the country is known for are also causing concern for the authorities, too. Teams have been deployed to keep watch on the tributaries which form a vital part of the country's infrastructure.
Pupils have been sent from school and residents in Grongingen and Friesland are being urged to stay indoors by the because of the risk of flying debris.
In the culture and party capital city of Amsterdam, Christmas shoppers have been hit by the closing down of the famous open-air markets. In rural districts, residents have been warned not to venture into forests because of the risk posed by falling trees and branched toppled by high winds.
READ:
UK Tidal Surge Pathway: When and Where North Sea Flooding Will Hit East Coast
'Worst Tidal Surge in 60 Years' Feared as Great Yarmouth Evacuates [SURGE MAP]
UK Storm Surge Threat Recalls Britain's Worst 20th Century Natural Disaster
Scotland Weather Warning: Lorry Driver Killed in 140mph Winds
UK Weather Warning: 140mph Winds Cause Travel Chaos Across Scotland
UK Weather Warnings: Gale Force Winds and Flooding Expected in 'Worst Weather for Decades'