Tiger killer exposed: Anonymous shames woman for sharing photo of dead animal on Facebook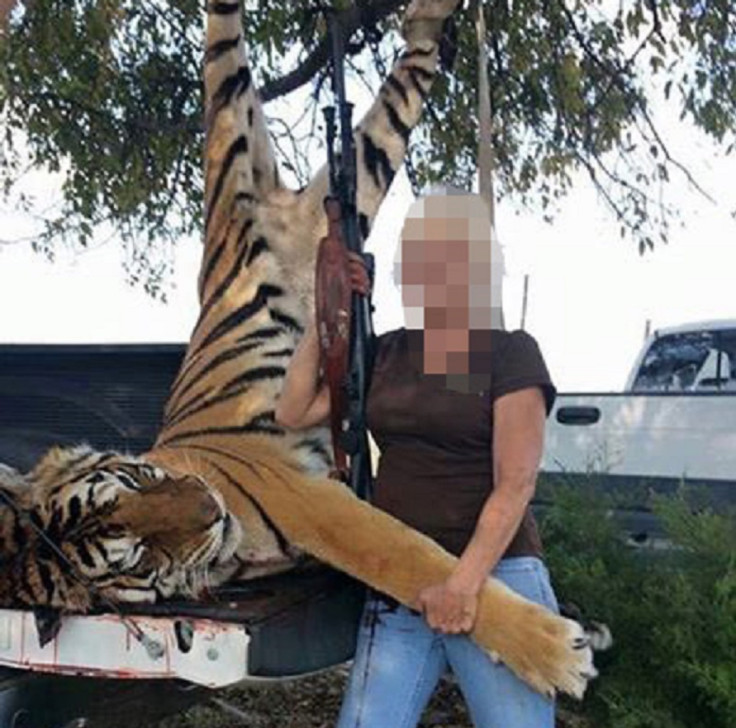 Hacktivism group Anonymous has exposed a woman who allegedly posted a photo on Facebook sitting next to a dead tiger with a shotgun and the caption: "it's hunting season again". The woman, believed to be a taxidermist from the US, has been named and shamed online with details of her address, telephone number, social media accounts and place of business.
The Mirror reports the woman allegedly claimed she killed the tiger at the request of its owner as it was in poor health. However, the posting of a photo of the bloodied animal strung up from a tree along with the caption prompted a splinter group of Anonymous to reveal the woman's details online in retaliation. The photo has yet to be fully verified as it has now been removed; however, the woman has responded to angry messages justifying the photo.
The hackers state: "It is clear from the photo she posted on her Facebook page (which she has since removed because it exposes her as a liar, though we will happily republish it) that the [tiger] was not elderly, was in good health and had its rear legs tied together prior to being shot and hung from a tree."
The group claims the woman is not telling the truth as the tiger, which was claimed to be 19-years-old, would have been much larger and say despite the decline in tigers "she is justified in slaughtering another, one which had clearly spent its entire life in a cage."
The public naming and shaming, or 'doxxing' as it's known, has left the woman in question open to reprisals and severe backlash. The photo was originally posted online for her taxidermy business in October 2015 and a social media storm has been brewing ever since. She has since removed all her Facebook and Instagram accounts after she was bombarded with threats and angry messages.
She responded on the Facebook page of the taxidermy business claiming: "Obviously u (sic) don't understand. This Siberian tiger was 19 and in poor health. His owner called me to put him down from his misery. It's an honour to be asked to preserve such a magnificent animal. This is my job and I love all animals."
This is not the first time animal lovers have been whipped into outrage on social media. There was a massive outcry after Walter Palmer, an American dentist, posted a picture of himself standing over the dead body of Cecil the Lion – one of Africa's most famous cats – which he killed on a hunting trip. The resulting backlash caused Palmer to go into hiding and his business was targeted by angry protesters.
© Copyright IBTimes 2023. All rights reserved.