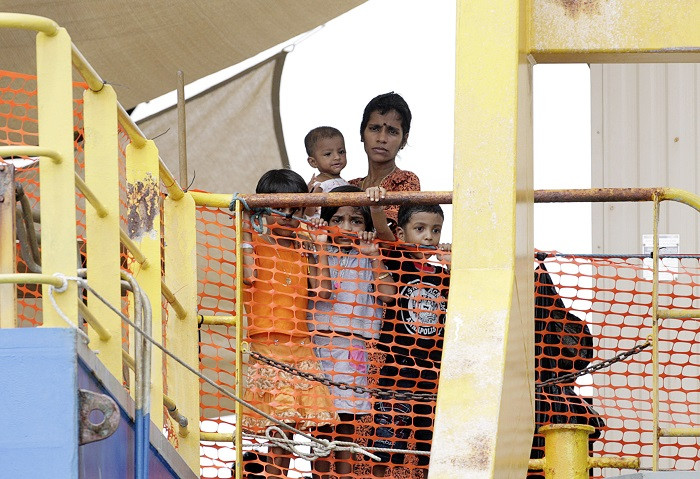 A group of illegal immigrants rescued from inside shipping containers at an Essex dock are believed to be Sikhs from Afghanistan, police have said.
Thirty five people, including 13 children aged as young as one, were found after workers at Tilbury Dock heard "screaming and banging" coming from inside one of the containers as it was being taken off a ferry.
Essex Police launched a homicide investigation after one man was found dead inside the container. Further tests are needed to determine a cause of death of the man believed to be in his 40s.
The man was traveling with his wife and two sons, aged nine and 12. They part of a group of 15 families who were travelling from Afghanistan to escape religious persecution.
The Sikh population in the Middle Eastern country has fallen drastically down the years. There are now believed to be as little as 3,000 Sikhs currently in Afghanistan, down from 100,000 around 30 years ago.
The 34 survivors on board the containers were taken to hospital to be treated for hypothermia and severe dehydration.
The P&O vessel left Zeebrugge in Belgium on 10pm, on 15 August and arrived the next morning in Tilbury.
Supt Trevor Roe, of Essex police, said: "We now understand that they are from Afghanistan and are of the Sikh faith.
"We have had a good deal of help from partners within the local Sikh community in the Tilbury area to ensure that these poor people, who would have been through a horrific ordeal, are supported in terms of their religious and clothing needs."
He added: "The welfare and health of the people is our priority at this stage.
"Now they are well enough, our officers and colleagues from the Border Force will be speaking to them via interpreters so we can piece together what happened and how they came to be in the container."
Peter De Waele, a spokesman for the federal police in Belgium, said he believes the stowaways were already inside the container when it arrived in Belgium.
He told the Press Association: "We saw that this container was there for one hour in all, in an area where there are a lot of cameras, a lot of people and a lot of cars driving. It was around 6pm so it wasn't dark.
"We think that the possibility [is that] the victims were already on the container before it was put down in Zeebrugge because in that area it is rather impossible to put 35 people in that container."
He said police will be studying CCTV footage to try and identify the driver who dropped off the container at the dock in Zeebrugge.