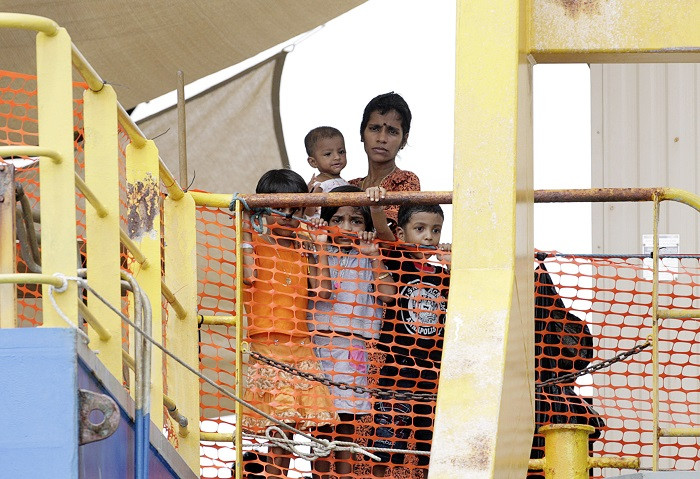 A man's death, following the discovery of 35 people in a shipping container in Tilbury Docks, is being treated as a homicide, Essex Police has announced.
Officers have launched a homicide investigation and are working with officials in Belgium, who are examining CCTV footage as part of their enquiries.
Superintendent Trevor Roe said staff at the docks were alerted to the container by screaming and banging from inside.
The survivors, including both adults and children, believed to be from the Indian sub-continent, are suffering from severe dehydration and hypothermia.
Eighteen patients were taken to Basildon Hospital, nine to London Whitechapel Hospital, and seven to Southend Hospital.
The stowaways were discovered early on Saturday morning when the ship was being unloaded by Port of Tilbury authorities, after it arrived from Zeebrugge in Belgium.
The East of England Ambulance service was called to the docks at 6.37am BST, and dispatched seven ambulances, two rapid response cars, two doctors and a hazardous area response team to the scene.
The container was one of 64 aboard the P&O freighter Norstream. P&O spokeswoman Natalie Hardy said the vessel was scheduled to leave Zeebrugge at 10pm BST on Friday, and was carrying 64 containers, 72 trailers, and five lorries and their drivers.
Hardy said port authorities made the discovery when "noise from the container made it apparent there were people inside".
"They found 35 clandestines on a container in the ferry," she said. "They had been in there overnight because the ship was an overnight freight ferry.
"This morning when they went to unload containers there was a noise heard, a banging. One, unfortunately, was dead and others were taken to hospital."
A spokeswoman for Public Health England said it is unlikely any of the ailments suffered by the stowaways are connected to Ebola or other infectuous agent.
"If it was Ebola, health care professionals are so alert at the moment to signs and symptoms that should there have been anyone who was showing symptoms, we would have been notified immediately," she said. "I think we can be confident that we are not dealing with that."
Staff from Port of Tilbury and the UK Border Force are also dealing with the incident alongside Essex Police.