US Secretary of State Rex Tillerson opened today's (22 March) meeting of the ministers of the global coalition on the defeat of Isis with a message for the US' partners to step up. "Circumstances on the ground require more from all of you," Tillerson said to 68 assembled coalition partners, including numerous foreign ministers.
Tillerson reiterated the coalition's aim as the "regional elimination of Isis through military force" and praised regional allies for humanitarian work, giving special focus to Iraq and Iraqi Prime Minister Haider Al-Abadi who has been visiting Washington and followed Tillerson on the podium.
Al-Abadi struck a positive note on the fight, saying that the fight against Isis "is in the stage of decimating it, not containing it". Both talked about the importance of investing in newly liberated areas, with Tillerson speaking of current stabilisation processes taking place in eastern Mosul before "normalisation" could take place.
The Secretary of State also issued a simple threat to Isis leader Abu Bakr Al-Baghdadi, saying that his deputies had been wiped out and it was "only a matter of time before Baghdadi meets this same fate".
Tillerson's remark to partners that "more" was required from them came after he made a comment on the US providing the majority of military assistance: "To date, in Iraq and Syria, the United States provides 75 percent of the military resources supporting our local partners in their fight against ISIS," Tillerson said.
"The United States will do its part, but the circumstances on the ground require more from all of you. I ask each country to examine how it can best support these vital stabilization efforts, especially in regard to contribution of military and financial resources."
The remarks also echo comments that the administration of US President Donald Trump has made about Nato – namely that the US is paying more than its fair share towards defence while other countries lag behind.
European allies worried after it was reported that Tillerson would miss his first Nato meeting to attend a meeting with Chinese President Xi Jinping at Trump's Mar-a-Lago estate in Florida before heading to Russia. On Tuesday night, the White House announced that Trump would attend a Nato leaders' meeting in Brussels in May.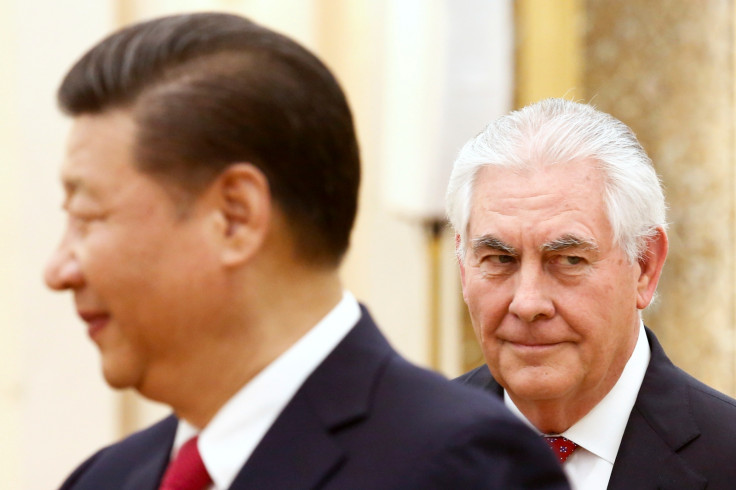 A surprise choice for Secretary of State, the press-shy Tillerson made headlines earlier this week when he told a reporter with the Independent Journal Review – the only journalist the State Department brought on a trip around Asia – that he did not want the job and that his wife had told him he was "supposed to do this."
During his Wednesday remarks, Tillerson also said that the cyber-war was just as important as the ground offensive, saying that they were "developing a tool for sweeping the dark corners of the internet for Isis material". "A digital caliphate must not take the place of a physical caliphate," Tillerson said, saying the internet is the "best weapon" Isis has "for turning a recruit into an attacker".