When Tom Hardy was preparing to play notorious prisoner Charles Bronson in the 2008 film Bronson, he was in regular contact with the person once dubbed Britain's hardest man.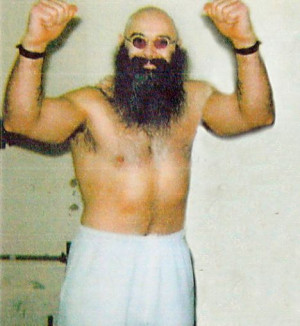 Bronson, 64, recently changed his name to Charles Salvador after the artist Salvador Dali, another quirk in a chequered life colourful enough to be turned into a film.
He has taken up painting as a hobby during his incarceration and his art has sold for thousands of pounds.
The former bare-knuckle fighter was locked up in 1974 for armed robbery, and handed a seven-year sentence.
But he has spent most of his life since behind bars due to a number of violent incidents, such as the time in 1999 when he held the former head of education at Hull prison hostage for 44 hours, even putting a noose around his neck.
Now he's about to get married for a third time, to former Coronation Street actress Paula Williamson.
Back when the film Bronson was due for release, Hardy was interviewed about the role, and told an anecdote about his first phonecall with the eccentric lag.
After many answerphone messages from Bronson, Hardy eventually picked up. As they got talking, the actor poured his heart out about a recent breakup with his girlfriend, and how it was getting him down.
Bronson's, er, reassuring response?
Do you remember the floods? Do you remember that boy who got his foot stuck in the grate, and the river kept rising, and it kept rising, and it kept rising, and eventually they tried to get him out but he drowned?

Well that wouldn't have happened to me. Do you want to know why? Because I'd have said, cut it off now.

Tom, what I'm trying to say is, right, what I'm trying to say, son, is sometimes yeah you've got to cut a little piece of yourself off, yeah, no matter how much it hurts, in order to grow, yeah. In order to move on. Do you know what I mean?

What you having for your tea?
Watch it in full (and, if you're bothered about that sort of thing, there's quite a lot of swearing).