Timeline of terror: From Beslan school siege to Sinai, Russia has always been a terrorist target
St Petersburg is the latest in a string of attacks against Russia at home and abroad.
In August 2016, Isis published a video showing masked militia fighters pledging to return to Russia and carry out terrorist attacks in response to Moscow's intervention in the Syria conflict on the side of President Bashar al-Assad.
That same month, two men who had pledged allegiance to Isis leader Abu Bakr al-Baghdadi attempted to kill two police officers at a traffic stop outside the capital, Moscow.
Then in December, Andrei Karlov, Russia's Ambassador to Turkey, was shot dead by an off-duty police officer in Ankara after days of protests over Russian involvement in the war in Syria. Mevlüt Mert Altıntaşan opened fire before shouting "Do not forget Aleppo".
It is too early to say who carried out the attack on the St Petersburg Metro that left at least 9 dead on Monday 3 April, but if it is linked to Islamist groups it will be the worst such attack on Russian soil for almost eight years.
Back in 2009. Muslim separatists bombed a train travelling from Moscow to St Petersburg near the town of Bologoye, killing 27 people and injuring hundreds more. In 2011, 12 members of a terrorist cell from the Muslim break-away region of Ingushetia, where there is strong opposition to rule from Moscow, were convicted of the attack.
Since Russia's involvement in Syria, the country has found itself a target of jihadi groups such as Isis. In November 2015, Isis brought down a flight carrying 224 people ov Sinai. Although the crash was initially blamed on a technical fault, Egyptian President General Abdel Fattah el-Sisi eventually admitted that Isis-affiliated terrorists were responsible for shooting down the jet.
But Russia's experiences with Islamist terror goes much further back than the establishment of Isis in June 2014.
Chechen separatists have fought against Russia for centuries and in 1994 open warfare broke out between Chechnya and Moscow. Two years later, Russia withdrew from the territory, but by 1999 had regained control.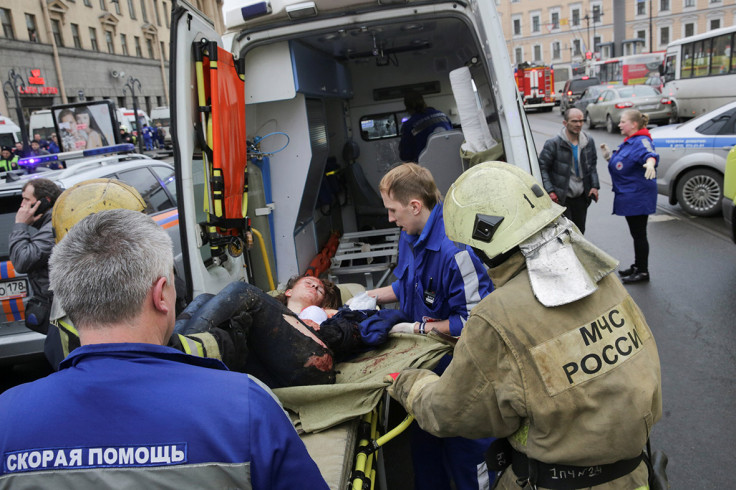 In the two decades since, armed factions from Chechnya and other Muslim regions of Dagestan and Ingushetia have carried out a low level insurgency against the Russian state.
As well as carrying out attacks such as the Beslan school hostage crisis in 2004 and the Moscow Metro bombings of 2010, Chechen rebels are fighting in Islamist movements in Syria - they have their division in Isis forces in the country - as well as in Afghanistan and Iraq.
© Copyright IBTimes 2023. All rights reserved.