Finding a potential partner online is more competitive than ever thanks to popular dating apps like Tinder and Bumble which encourage participants to present a rather rose-tinted view of their life.
Regular users know getting ahead of potential love rivals is no easy task. However, a witty profile and a bit of effort can go a long way as one enterprising user has proved.
21-year-old Sam Dixey is going viral thanks to this hilarious PowerPoint-inspired presentation outlining why the ladies should pick him ahead of other males.
"As you can clearly see from the visual aids, I have friends and go places. This is always a good thing," writes Dixey.
According to his profile, Sam enjoys dad jokes, petting doggos and talking about his feelings. He says he has other admirable attributes including; being generous while drunk, owning a Netflix account and claims to be "not the worst at sex."
Also added are some not-at-all fake personal recommendations, including one from current US president Donald Trump.
Twitter user Gracie Barrow was the first to point out Stephen's stellar effort. She wrote: "A genuine 10/10 effort from this lad lmaooo I'm crying."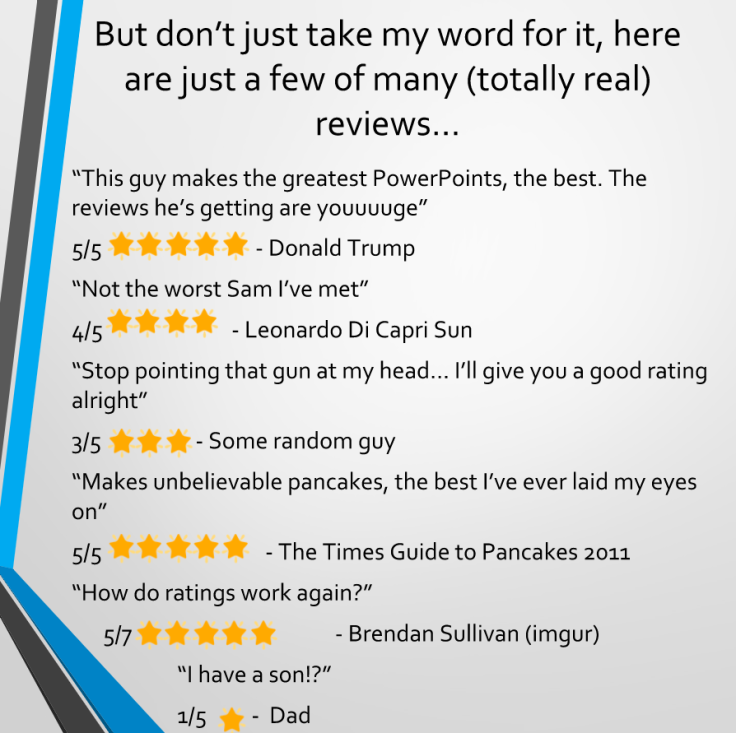 Gracie says she was so impressed with Sam's profile she shared it online. Her post has received almost 100,000 likes and also revealed that she swiped right for Sam.
"Mostly everyone's Tinder profile is the same, with good pictures of themselves and usually a shit bio, but Sam's was different and really stood out," she wrote. "I think most girls appreciate the funniness of it all!"