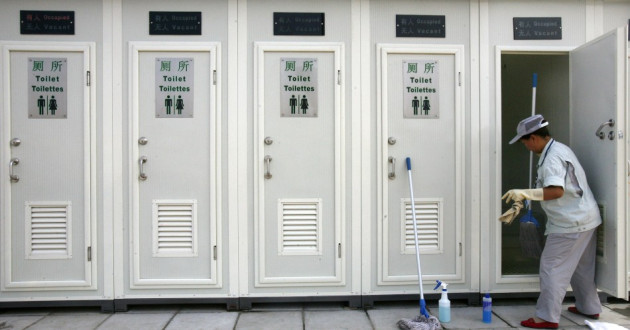 A change in toilet break rules at a Chinese factory triggered a hostage crisis which was only brought to an end by the intervention of 300 anti-riot police officers.
Eighteen managers at a Shanghai branch of a Japanese electric company were held hostage by 1,000 workers angry at a reduction in the time allowed them for going to the bathroom.
Workers at the Shanghai Shinmei Electric Company went on strike and seized the plant after the introduction of fines and sackings for those taking more than two minutes in the lavatory.
The managers - 10 Japanese and eight Chinese - were kept inside the building for a day and a half.
"The workers demanded the scrapping of the ridiculously strict requirements stipulating that workers only have two minutes to go to the toilet and workers will be fined 50 yuan [£5] if they are late once and fired if they are late twice," said a factory security guard known only as Feng.
A protester posted an online message complaining that the fines were disproportionate to the workers' wages, since the average pay amounted to about £200 a month.
According to the South China Morning Post, when the protest started the company's president, Hideaki Tamura, was touring the plant.
The Japanese parent company, Shinmei Electric, confirmed management reforms and labour policies were believed to have caused the anger but did not confirm the new toilet policy.
The managers were released uninjured after police intervened.
Shanghai Shinmei Electric produces electromagnetic coils and other electronic products. Negotiations are reportedly under way for the plant to be bought by a Chinese firm based in Dalian, Liaoning province, and the new toilet rules are rumoured to be linked to the acquisition deal.