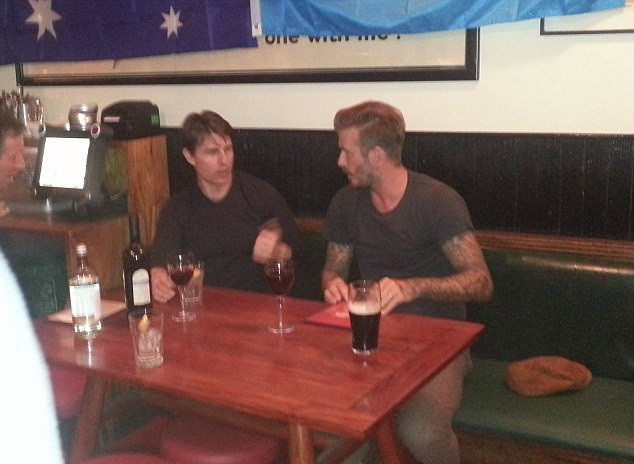 The locals at a Notting Hill pub found themselves in A list company as David Beckham and Tom Cruise unexpectedly dropped in for a pint.
Onlookers were stunned as they stumbled on the high profile patrons who met up for a drink on Monday (23 June) at Irish pub The Cow, in Notting Hill.
Dressed casually and looking unassuming, Cruise, 51, and Beckham, 39 had a bottle of wine on the table in front of them. The retired England footballer was seen with a pint of Guinness, while the Mission Impossible star had a glass of water.
Pub-goer Lisa Freid, said she "couldn't believe" her eyes, as she took a picture of the two celebrity friends during their drinking session.
Posting the picture to her Instagram account she added the hashtags #justnexttous #chilling (sic)
Another Instagram user took a picture of the actor and the football star, writing: "Another Monday night at the pub with David and Tom."
It's the latest London night out for the actor, who was spotted enjoying dinner at the Chiltern Firehouse last month.
Beckham and Cruise have been friends since 2003, and became close when the football star and his wife Victoria, 40, moved to Los Angeles in 2007, after the footballer was signed by LA Galaxy.
Cruise was previously photographed with the Beckhams and their children, courtside at a basketball match.
And David recently revealed that he and neighbour Tom often had movie nights while he lived in the city.
"When we were living in LA, Tom Cruise lived two minutes away. He's a good friend. There were occasions when I'd call him up and ask him if he had a new movie that wasn't out yet, and I'd go round and watch it with him," he said.
In March The Edge of Tomorrow star was in London to attend the Empire awards where he was presented with the Empire Legend of Our Lifetime award.