Tombs of Workers who Built Terracotta Warriors Mausoleum Discovered in China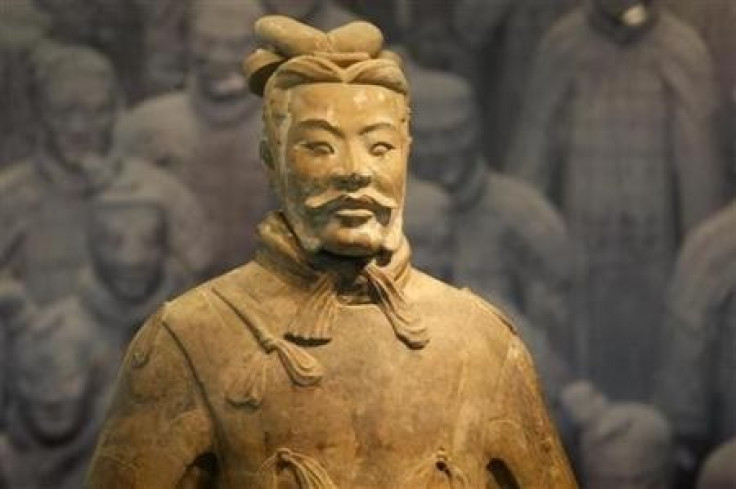 Chinese archaeologists have discovered what they believe are the tombs of ancient workers who built the Terracotta Warriors mausoleum.
Terracotta Warriors and Horses is actually the mausoleum of Qin Dynasty's Qin Shi Huang (221-210 BC), the first emperor of China.
Archaeologists at the Shaanxi Provincial Institute of Archaeology have discovered a total of 45 tombs about 5km from the mausoleum.
The crypts were found with skeletal remains of people believed to have been buried in a coffin with their leg twisted. According to archaeologist, twisting leg of the dead before burying was a burial custom of the Qin Dynasty.
"The Terracotta Warriors and horses, as well as the other rare relics unearthed from the funerary pits next to the emperor's mausoleum, might have been made by the people interred in the 45 tombs," excavation leader Sun Weigang told the China Daily.
Another five tombs thought to date from later dynasties were also unearthed during the excavation that took place from July to September last year.
The excavation also uncovered about 300 pottery items in the tombs. Archaeologists believe the Chinese characters for Li, stamped on some of the objects could help identify the occupants of the tombs.
Li, the report says, was a township established in 231 BC to accommodate over 30,000 families who moved in to Li in 212 BC for the construction of the emperor's mausoleum.
Li is believed to be located near the place where the workers would build the mausoleum.
"From the character Li, we can preliminarily judge that the 45 tombs were low-ranked. But important tombs belonged to the township of Li," Sun said.
The Qin Shi Huang Mausoleum represents a unique funerary art where the emperor lies buried in his tomb surrounded by his army.
Represented by terracotta warriors, Huang's army was buried along with him in a belief that they would protect their emperor in his life after death.
According to Unesco, the terracotta army of the mausoleum must have represented the exact number of the imperial guards.
© Copyright IBTimes 2023. All rights reserved.