US First Lady Michelle Obama has visited the Great Wall of China in Beijing and Terracotta Warriors Museum in Xi'an along with her daughters as she continues her first diplomatic trip to China.
Michelle, who began her week-long visit to China in Beijing last week to foster educational and cultural exchanges between US and China, visited a section of the Great Wall of China at the village of Mutianyu, located north of Beijing.
In a bid to share her China experience with the young people in America, the first lady wrote a travel journal describing seeing the Great Wall.
"At Mutianyu, the Wall is roughly 20 to 25 feet tall and full of stairs, and there's a watchtower every 100 yards or so. Those watchtowers serve as a reminder of why the Wall was built in the first place – to defend against attacks from armies descending from the north," the 50-year-old Michelle wrote.
"Throughout its history, the Great Wall has gone through decades, even centuries, of ruin and disrepair. But it has always served as not only a physical barrier, but a psychological one to intimidate potential invaders."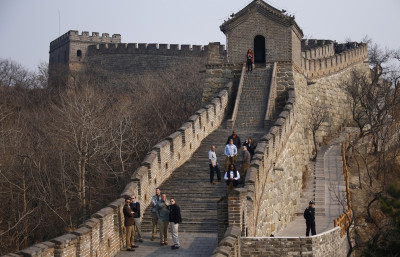 She continued: "During our visit to the Wall, I couldn't stop thinking about what a massive undertaking it must have been to build it."
"Hundreds of thousands of soldiers and peasants were given the dangerous, painstaking – and often fatal – task of carrying ton after ton of granite, brick, dirt, and wood through the forests, up over the hills, and down through the valleys to create this incredible structure."
"They did this year after year, decade after decade – and it's because of their hard work and sacrifice that the Great Wall remains standing today," she added.
During her second leg of trip at Xi'an, Michelle Obama visited the Terracotta Warriors Museum and the Xi'an City Wall.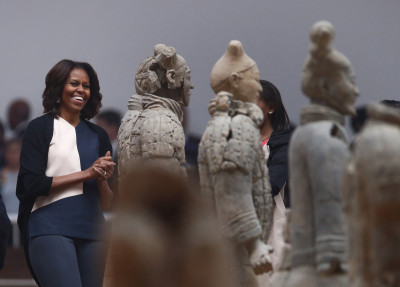 First lady's China tour ends on Wednesday at Chengdu, where she will visit a high school to highlight the importance of education in her own life and in the lives of students in both the United States and China. Michelle Obama will conclude her trip with a visit to Chengdu Pand Base on 26 March.