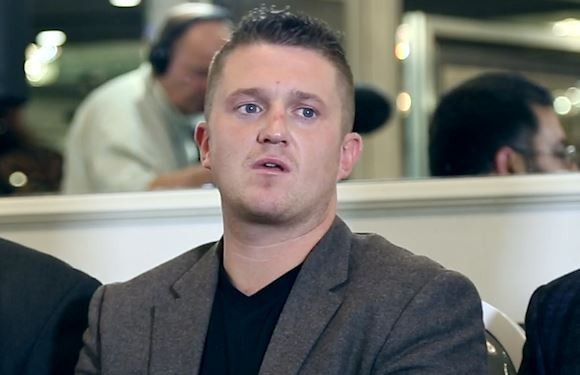 EDL Select Dorset's Tim Ablitt as New Leader After Tommy Robinson Quits
English Defence League leader Tommy Robinson dramatically severed his ties with the anti-Islamist group he founded by warning that "the EDL is now part of the problem."
Robinson, who was speaking at the launch of a new partnership with counter-extremist thinktank the Quilliam Foundation, recanted the controversial tactics of the EDL and said racists and far-right extremists infiltrators had "ruined everything" and admitted "it's beyond my control".
One objective of the new partnership will be to prevent an Anders Breivik-style massacre from happening in Britain, it was claimed.
"In the next five or ten years there will be people blowing things up; Breivik-style," said Robinson. "It is coming. It's the last thing I want."
Robinson's decision to leave the EDL, along with deputy leader Kevin Carroll, means there will be no more street demonstrations for the man dubbed 'King of the March' by followers on Twitter.
Robinson, real name Stephen Yaxley Lennon, said the sight of "white pride" slogans at EDL rallies in Manchester and Portsmouth had convinced him that his control over the group's message was slipping and that it no longer spoke for him.
He claimed he realised the writing was on the wall while he was in prison, when members mounted an attempted coup against Carroll's leadership.
Robinson denied he had been forced out by racists with a more extreme agenda. But he conceded he could only "pray" the genie of popular extremism let out of the bottle by the EDL does not morph in to a significant menace to society now he is gone.
He warned: "I think extremist organisations in the EDL will pounce and then mainstream people will not support them. I hope the EDL stays non-violent and peaceful. But the radical elements have made it impossible.
"I want to represent myself. I do not want someone in a different town saying something that reflects back on me."
Robinson and Carroll unveiled their new partnership with Quilliam at the five-star Montague hotel in central London. It was an incongruous setting for an unlikely pairing.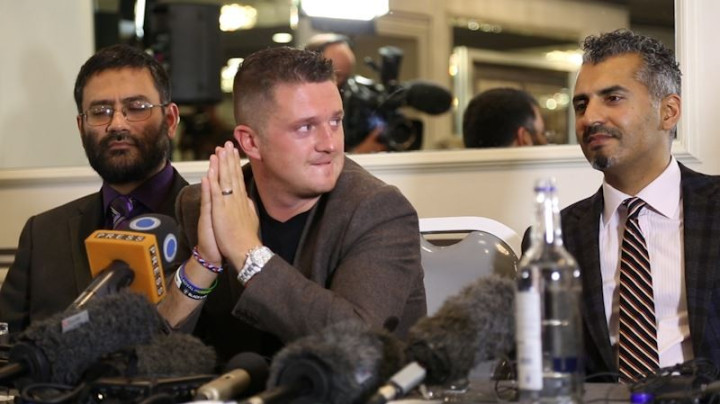 Talking about how the group's membership has developed in the time since it was founded in Luton, Robinson said: "I believe the EDL was part of the solution for four years. I believe it is now part of the problem."
"It's going to be painful. I pray the EDL stays true to the roots of how it was founded and that it builds on them - but it's going to be painful to watch what comes with it."
In what may yet be an ominous prophecy, Robinson said the controversial group is today capable "of putting more boots on the ground than ever before".
Robinson will not be attending this weekend's planned EDL march in Bradford, he announced. The city has a large Muslim population and witnessed race riots little more than a decade ago. Robinson called on supporters to stay away and to follow him out the organisation.
Robinson said he wanted to "lead a revolution against Islamism, not against Muslims," and that "street rallies are getting to the point where they continually go to the same cities and it is pointless". How many EDL marchers listen to him this weekend remains to be seen.
Robinson revealed he had lost sleep over his decision to quit the EDL and he faced "going to back to communities who will feel let down by what I've done".
Quilliam was founded by two former radical Muslims and receives funding from the government for its counter-extremism work. Co-founder Maajid Nawaz spent time in jail in Eygpt for belonging to fundamentalist group Hizb ut-Tahrir. He sat between Robinson and Carroll on the platform and called for the partnership to work.
Nawaz said: "We have a common vision for this country and we need to move forward together and stand together. There are some people on both sides and on the far left who oppose a common inclusive future and it is for us to oppose this. My appeal would be to give this process the chance to mature."
In a spectacular recantation, Robinson and Carroll have changed their ways by quitting the EDL. The question is what have they left behind?