A satellite image by Nasa has shown how Tropical Cyclone Ian has intensified to a hurricane-strength storm, with a cloud-filled eye at the centre of the system.
The cyclone has been intensifying over the last several days hovering in a stretch of ocean over Fiji and Tonga.
It is expected to make landfall in the South Pacific island nation at some point over the next 12 hours, with some forecasters predicting "catastrophic" damage.
Nasa said Ian had reached hurricane-force yesterday: "The Moderate Resolution Imaging Spectroradiometer instrument took a visible picture of the storm that showed a cloud-capped eye and bands of thunderstorms wrapping into the centre from the eastern and western sides of the storm.
"There are warnings in effect for the Tonga Islands. A storm warning is in effect for the Va'vau group of islands, and a gale warning is in effect for the Ha'apai group of islands."
It recorded maximum sustained winds of almost 100km/h and said the cyclone is expected to intensify further before changing into an extra-tropical storm.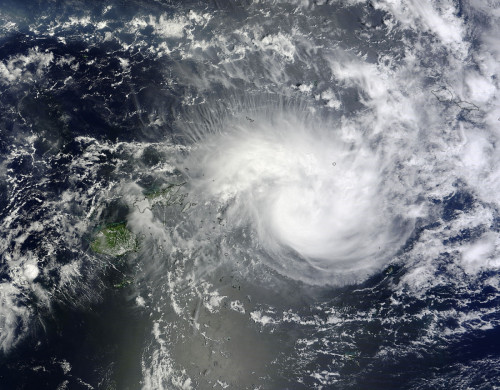 Tonga's Meteorological Service warned residents to prepare for extreme weather, saying Ian could bring: "Damaging gale force winds to Vava'u within the next three hours, destructive storm force winds in the next three to six hours and very destructive hurricane force winds in the next six to 12 hours.
"For the Ha'apai group, Tropical Cyclone Ian may bring damaging gale force winds in the next six hours, destructive storm force winds in the next six to 12 hours and very destructive hurricane force winds in the next 12 to 18 hours."
Tropical Cyclone Ian was upgraded from a Category 3 system to Category 4 – the second highest on the scale - overnight following winds of 170km/h and gusts of up to 230km/h.
Explaining what a Category 4 tropical cyclone entails, the National Hurricane Service said: "Catastrophic damage will occur: Well-built framed homes can sustain severe damage with loss of most of the roof structure and/or some exterior walls. Most trees will be snapped or uprooted and power poles downed.
"Fallen trees and power poles will isolate residential areas. Power outages will last weeks to possibly months. Most of the area will be uninhabitable for weeks or months."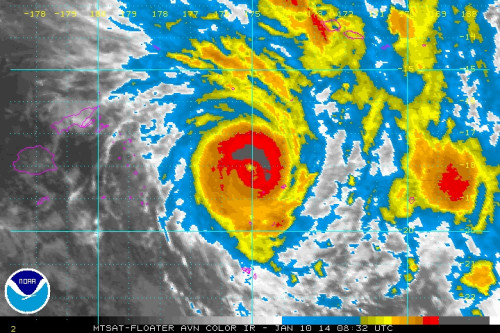 A statement from the United Nations Office for the Coordination of Humanitarian Affairs (OCHA) said: "Current modelling ... suggests the cyclone will pass by Vava'u (population 15,000) around midnight (UTC +13) and then Ha'apai (population 6,600) around midday Saturday 11 January. The cyclone may cause destructive winds, heavy rain, high swells and flash flooding in low-lying coastal areas.
"The National Emergency Operations Committee held a meeting and media briefing last night to discuss preparedness activities. Authorities are advising people to have enough food and water for 72 hours and to charge mobile phones and radios. Many people are boarding up windows and have cut leaves from fruit-bearing trees to reduce crop damage."
The Tongan Red Cross Society also has emergency response teams in place to deliver non-food items across the five islands.
Leveni Aho, the director of Tonga's National Emergency Management Office, warned people to be prepared: "A reminder to people to make sure that they have enough supplies for the next 72 hours in terms of water, drinking water, and food and (ensure) some basic necessities like radios and mobile phones are charged to maintain communication.
"Make sure that they are in a safe place, if ever the winds arrive keeping away from low lying areas and the coastal areas, make sure that they are in a safe house, sheltered."