A German-Austrian comedy from director Maren Ade, Toni Erdmann follows the travails of buffoonish divorced elderly man Winfried Conradi (Peter Simonischek) who, when not teaching piano to children, spends his time playing pranks on friends, family and strangers he encounters.
His estranged daughter Ines (Sandra Hüller) appears cut from a different cloth, a stern and serious corporate figure who works as a consultant for a big oil firm in Romania. After the death of his dog, Winfried decides to fly to Bucharest and reconnect with his daughter the only way he knows how, by staging a series of bizarre and outrageous practical jokes.
Our verdict
Here is a film that will vanquish the lazy stereotype about German humour once and for all. Riotously funny and quietly tragic, Toni Erdmann is a bittersweet story about family ties, modern capitalism and the various personas we adopt through life.
Initial impressions suggest we're heading down the familiar tragi-comic road of the strained family relationship. Serial prankster Winfried Conradi is a foolish but warm figure who lives to amuse, and yet his relationship with his daughter Ines, who fleetingly visits before returning to Romania on business, has noticeably cooled.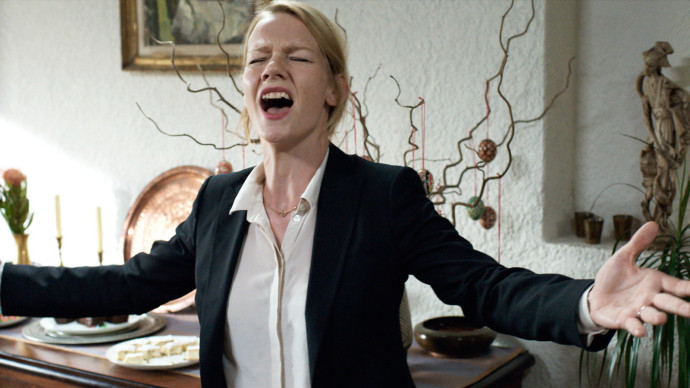 But once he decides to visit her at her Bucharest office in a spontaneous visit as alter-ego Toni Erdmann, a self-claimed consultant and life coach, the films takes on a freewheeling, carnivalesque life of its own. Kitted with false teeth and a messy dark wig, actor Peter Simonischek succeeds in presenting a man whose clownish cuddly charm masks a deep loneliness.
Whilst having the most laughs on screen, he is matched throughout by Sandra Hüller, who pulls off the trickier role of making sure her career-driven but socially lacking 30-something Ines never falls into cliche.
The Erdmann doppelganger soon invades every aspect of Ines's miserable expat life as she spends both her days and nights desperately trying to please her bosses while survive the sexist onslaught she must endure as a career-driven women in a stifling corporate world.
Both a desperate attempt to heal their relationship and a quasi-intervention of sorts that she reanalyse her career, Winfried's Erdmann hopelessly fumbles through most attempts to connect with his daughter, as his ruse spins out of control and Ines finds her personal and professional life colliding. It's all delivered through some stand out scenes, including a hotel room quickie involving cakes, an off-key karaoke featuring Whitney Houston's mawkish ballad Greatest Love of All and a staggeringly sublime and surreal finale that will make you never think about brunch in the same way again.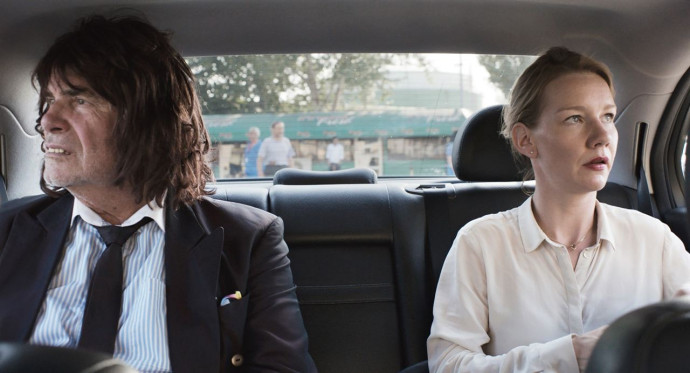 Throughout the film's no-frills visuals heighten the realism of the piece and increase the embarrassment for the characters when any of these outrageous set-pieces take place. Those who have watched the likes of Curb Your Enthusiasm and The Office will be all too familiar with the excruciatingly awkward comedy that has defined many 21st century sitcoms. Fans of Alexander Payne's work will also find themselves revelling in the movie's dark humour and clumsy social interactions. But where the real magic of this movie lies is in how it uses the thoroughly ludicrous to deal with topics that are deeply serious.
The central concept of Winfried creating an alter-ego to both reach out to his daughter and charm her colleagues shows us the various disguises and personas we adopt to fit in with societal norms both personally and professionally. Winfried clearly plays the fool hiding a deeper loneliness. In contrast, Ines is caught up in a suffocating, soulless corporate world where she must remain unemotional at all times, especially when her job revolves around finding ways to create redundancies in her company. It's this repression of any empathy which most startles Winfried, causing him to ask his daughter in exasperation at one point, "Are you even human?"
This damning view on the lack of empathy in modern capitalism extends to the setting itself, where Romania is presented as a great EU project for western businesses to expand, while neglecting the stark inequality in the former Socialist nation. In a sexist putdown, Ines is told to help the wife of a company CEO go shopping in Bucharest at 'Europe's biggest mall,' even though as she notes, "none of the local population can afford to go there".
Rather than a slog, the film's nearly three-hour running time allows the themes to blossom from these seemingly frivolous scenarios. The fact that such probing insights are packaged up in an anarchic comedy of manners for the modern corporate world is what has made Toni Erdmann such a darling hit of the film festival circuit. While you'll delight in the comedic spectacle, it's the film's poignancy that will gnaw at you for much longer.