Australian Prime Minister Tony Abbott's aversion to 'ugly' and 'noisy' wind farms and his endorsement of coal as 'good for humanity' could derail some of the country's big renewable energy projects.
One of the biggest wind and solar plants in the north could be immediately affected by the latest directive from the government to the Clean Energy Finance Corporation (CEFC) to stop investing in wind farms.
The $2bn-plus (£1.3bn) 1,200-megawatt Kennedy Energy Park in Queensland could suffer with financing tough to come by, according to WindLab the company behind the project.
"If they're not there, it doesn't mean it can't get done, but I will tell you it'll be harder," Windlab's chief executive officer Roger Price told Reuters.
The project is one of the world's 10 biggest renewable energy plants and could provide 80% of local energy supply.
The government directive could be challenged as the CEFC has "a pretty clear mandate to invest in established, successful renewable energy technology like wind and solar", said Tim Stephens, a professor of international law at the University of Sydney.
CEFC's CEO Oliver Yates said that he was seeking legal advice before formally responding to Abbott.
After cutting the country's Renewable Energy Target by a fifth a month ago, Abbott recently gave final regulatory clearance for China's Shenhua Energy Co Ltd to build a A$1bn ($740m, £470m) coal mine on prime agricultural land.
Carbon emissions
Australia is a major coal producer and among the world's highest per capita carbon emitter at 16.9 tonnes as against China's 6.2, India's 1.7 and 17 for the US and Saudi Arabia.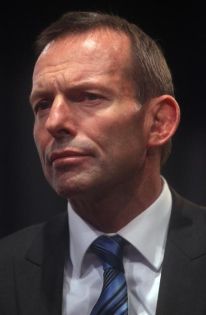 Australia has also repealed its carbon tax a few months ago, following which carbon emissions and electricity demand in Australia had risen according to energy consultancy Pitt & Sherry.
Negotiations over the Renewable Energy Target have seen a steady downward target with a greater mix of polluting technologies like waste wood burning.
A drop in renewables was replaced by more generation from black and brown coal power stations, placing Australia as the champion of coal.
When nations across the globe are aiming at increasing the renewable share, a government-commissioned report has actually recommended that Australia end its Renewable Energy Target, which targeted at a 20% clean energy share in electricity by 2020.
Australia's proposed emissions reductions target seeks to achieve a 5% drop below 2000 levels by 2020.
Environmentalists have been seeking a 15% cut.
Meanwhile, opinion polls conducted by Essential Media in May showed that 71% of Australians support solar power and 62% support more emphasis on wind power.