Arsenal legend Tony Adams has hailed the Gunners' defensive partnership of Laurent Koscielny and Per Mertesacker and believes that their brilliant form is down to their continued familiarity alongside each other. The duo were an integral part of the the North London club's brilliant run in the latter part of the season, taking 26 points from a possible 30 in their last 10 games.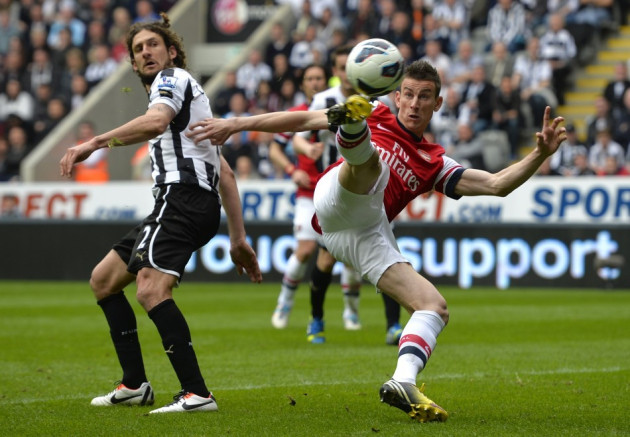 Conceding only four goals in that period, the Gunners managed to get the better of rivals Tottenham and finish the season in fourth spot and give themselves a chance to qualify for the Champions League for the 16th year in succession. The pair are likely to be Arsenal's first choice defenders next season with Thomas Vermaelen keeping his place on the bench.
"It's the only position where you need familiarity. You need to play with your mate on a regular basis to gain confidence and I think that really worked for Arsenal defensively. [Arsène Wenger] left that alone and they gained confidence. It's the fact that they play regularly with each other that they've learnt [about] each other's game," Adams said.
"I think that's what really helped Koscielny and Mertesacker - that they got to know each other's game. For me, Mertesacker is a zonal defender and Koscielny is a man-to-man marker. They got to know each other's game because they played with each other week in, week out," he added.
Adams spent 19 seasons at Arsenal and played alongside the likes of Steve Bould and Martin Keown in the Gunners' defence. He reveals how changing partners every other day disrupted his flow and he found it difficult to adjust from one style to the other.
"I used to play with Steve Bould. We used to play zonal defence. Steve was a zonal defender and he knew how that system worked. Playing with Martin Keown was different. He was a man-to-man marker and when I used to play with Martin, I used to play differently alongside him. To keep changing that scenario is very difficult. If I was playing with Bouldy one week and then Martin the next, it would have been very difficult for me to go from one to the other," the former Arsenal man explained.