A teenager, known online as Trick, who hacked into the email account Tony Blair's assistant, posted sensitive personal details of the former Prime Minister online.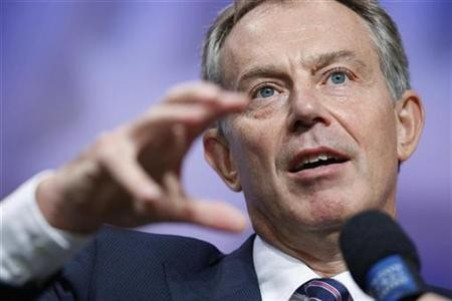 Juniad Hussain, 18, posted the sensitive information online for anyone to access having hacked into the Gmail account of Katy Kay, former special advisor to Blair. He appeared in Southwark Crown Court today and was jailed for six months.
Under the alias Trick, Hussain led the hacking group Team Poison, which is an offshoot of teh hactivist collective Anonymous. Hussain also pleaded guilty to bombarding an anti-terrorism hotline, over a period of five months from December last year to April this year, at one stage making 111 calls in just three days.
Using the alias Trick, Hussain posted phone numbers and addresses related to Tony Blair, as well as the former Prime Minister's email address and National Insurance number. Also included in the cache of data dumped online was information about Blair's wife Cherie, sister-in-law Lyndsey Booth, his children and friends, as well as sitting MPs and Lords.
Hussain, along with some members of the Team Poison collective, bombarded the national anti-terrorism hotline with phone calls. The centre's seven phone lines recorded an 850 percent increase in calls over one three-day period.
The phone calls were recorded and posted online on YouTube, with the Team Poison members using special software to hide their voices.
Passing sentence, Judge Nicholas Loraine-Smith QC said:
"You told the probation officer that someone suggested Tony Blair's PA should be a target. You succeeded in hacking the personal account of Ms Kay, with some 150 contacts. Some or all of those were then posted on the internet. She received abusive calls and emails from here and abroad.
"This was a gross invasion of her privacy and those of her associates, for which you were responsible. There were very real dangers in details of her associates being freely available."
Speaking about the prank phone calls in particular, the Judge said:
"These not only resulted in an appreciable waste of police time, but could have stopped genuine callers getting through. There is no doubt both of these offences deserve custodial sentences."
Hussain, who is from Birmingham, recently sat his A-Levels and was previously offered places at two universities to study computer forensics. He was arrested in April, after a journalist contacted Kay to say he had found her account details online.
Hussain previously admitted conspiring to commit public nuisance between January 1, 2010, and April 14, 2012, and causing a computer to perform a function to secure unauthorised access to a program or data.
A third charge, of doing 'defacing' numerous websites hosted by Hampton Media Services between June 3 and 7, 2010, was ordered to lie on file.