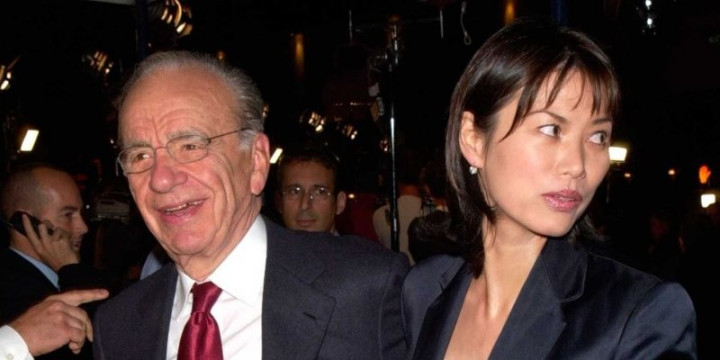 Tony Blair's office has been forced to issue a vigorous denial of unfounded internet rumours that he had an affair with Wendi Deng, the wife of Rupert Murdoch.
The categorical denial came after the media tycoon, who is chairman of News Corporation, confirmed that he and Deng were to be divorced after 14 years of marriage. He cited an "irretrievable breakdown" in their relationship.
A spokesman for the former British prime minister said: "If you are asking if they are having an affair, the answer is no."
The divorce was first reported in Deadline Hollywood and confirmed by Murdoch's spokesman.
Shortly after meeting Deng in 1999, Murdoch divorced his then second wife with a $1.2bn (£770m) settlement in what was the second biggest divorce settlement in history.
The far-fetched rumours concerning Blair first surfaced on Twitter on Friday 14 June.
Blair is godfather to Rupert and Wendi Murdoch's two children, Grace, 11, and Chloe, nine.
He also has considerable commercial interests, including a private consultancy, Tony Blair Associates, which provides "strategic advice".
Blair's office said in a statement: "With regards to rumours over an alleged affair with Tony Blair and Wendi Deng: this is categorically untrue and has never been true."
The statement described the claims as "offensive, defamatory and actionable".
Blair is a committed Christian and family man. He and his wife Cherie have been married since 1980 and have four children.
Deng is known to have been close to Blair, whose politics are thought to resemble her own. She is credited with influencing Murdoch's political shift to the soft left and introducing him to a circle of friends who included wealthy Democrat supporters such as music producer David Geffen, U2 lead singer and charity activist Bono, and actress Nicole Kidman.
Sources say the marriage came under strain because of Wendi's socialising. Murdoch rarely accompanied his wife to the charitable functions she frequented, the New York Times observed in a June 2012 profile of Deng.
In the divorce filing on Wednesday, Murdoch's lawyers said that the "relationship between husband and wife had broken down irretrievably".
The marriage is said to have been under strain for several years. Murdoch's eldest son, Lachlan, told confidants that his father had concluded that marrying Wendi was a "mistake".
Deng signed a pre-nuptial agreement when she married Murdoch in 1999, and the couple have since signed two further post-nuptial agreements.
"This is not amicable, it's totally public, it's a throw-down-the-gauntlet, we-are-going-to-war kind of thing," tweeted Michael Wolff, a columnist for the Guardian and the author of the best-selling biography of Murdoch, The Man Who Owns the News.
"If he [Murdoch] feels that someone is going to war with him, he's going to strike first."
As the media mogul prepares to hive off the company he founded into two separate entities this month, News Corp also announced that its chief finanical officer, David DeVoe, is to retire after 25 years with the company.
Wolff described this as "nearly as seismic" as the divorce. "What is happening over there?" he tweeted. "Beginning to sound like the climax of a Godfather movie, everybody killed, at News Corp."