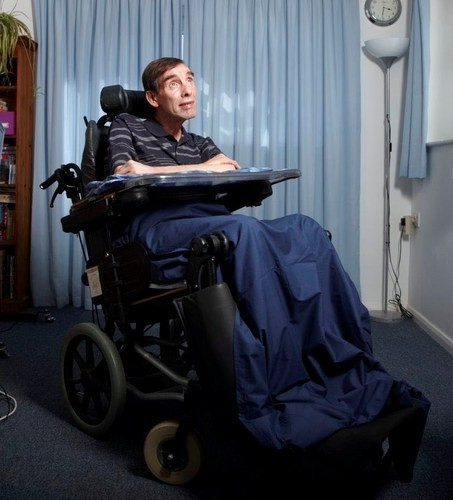 Locked-in Syndrome victim Tony Nicklinson, who recently lost his high court battle for a doctor to legally end his life, has died at his home in Wiltshire.
Nicklinson, 58, has been almost completely paralysed since he suffered a stroke on a business trip to Athens in 2005.
His lawyers confirmed that the father-of-two had died at his home.
In a brief statement, Bindmans LLP said: "This is to notify you of the sad death of Tony Nicklinson at approximately 10am this morning."
His death was also confirmed on his official Twitter page via his wife Jane and two daughters Lauren and Beth.
The tweets read: "You may already know, my dad died peacefully this morning of natural causes. He was 58.
"Before he died, he asked us to tweet: 'Goodbye world the time has come, I had some fun'.
"Thank you for your support over the years. We would appreciate some privacy at this difficult time. Love, Jane, Lauren and Beth."
A spokesman for Wiltshire Police said the force would not be investigating his death.
Death certificate signed
"Police are not involved at all. We can confirm he passed away and it is not a matter for Wiltshire Police," he said.
"His death certificate has been signed by a doctor so it is not a matter for Wiltshire Police or the coroner."
It is believed Nicklinson died of pneumonia. His lawyers also said he had been refusing food since last week.
Nicklinson, from Melksham, Wiltshire, who could only communicate through a specially adapted computer that monitors his eye movements, pleaded to the high court for a doctor to lawfully end his life which he described as "a living nightmare".
His case differed from other right-to-die cases as he would have needed the assistance of a doctor to administer lethal drugs to him.
The high court rejected his case to allow doctors to end his life without facing prosecutions, a decision Nicklinson was said to be "devastated" by.
He said after the decision: "Although I didn't want to raise my hopes, it happened anyway because a fantastic amount of work went into my case and I thought that if the court saw me as I am, utterly miserable with my life, powerless to do anything about it because of my disability then the judges would accept my reasoning that I do not want to carry on and should be able to have a dignified death.
"I am saddened that the law wants to condemn me to a life of increasing indignity and misery."
The laws states that while doctors may decide not to prolong a life by continuing treatment, they cannot take steps to end life.
Tony Nicklinson: Judiciary Should Stop Looking to Parliament for Legal Change [BLOG]