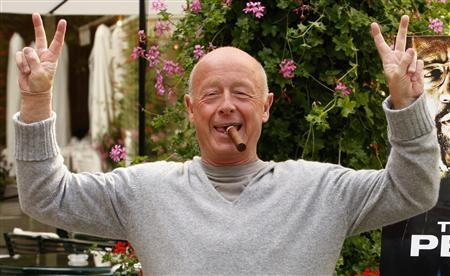 Filmmaker Tony Scott died from blunt force injuries and drowning after he leapt to his death from a suspension bridge in August, a coroner's report has confirmed.
The report, released by the Los Angeles County coroner said that preliminary autopsy results showed that the Top Gun director had anti-depressant Mirtazapine and the prescription sleep-aid Lunesta in his system when he killed himself.
Hollywood reacted with shock and disbelief after the 68-year-old British-born director jumped from Vincent Thomas Bridge in Los Angeles on 19 August in broad daylight.
"Tony Scott... You left us too soon. How terribly sad. What a lovely, kind human being you were. I will love and miss you," wrote actress Rosario Dawson.
"Awful news about Tony Scott. Rest in peace," actor Elijah Wood, who played Frodo in Peter Jackson's Lord of the Rings trilogy, said.
While earlier reports suggested that Scott had been diagnosed with inoperable brain cancer, the autopsy revealed that he was not suffering from any serious illnesses, including cancer, at the time of his death.
"There was no evidence of neoplasia - cancer - identified," coroner Craig Harvey told the Los Angeles Times.
It has long been assumed that the director's death was a suicide, as he left notes to friends and loved ones when he died. But like the notes, the findings have shed no light on a motive for his actions.
A coroner's spokesman said a final report will be available in two weeks' time.
Scott is survived by his third wife, Donna, with whom he had two children.