"I'm half-Polish, half-Pakistani, I married a Welsh man and I'm 100% Tooting – that reaches across so many areas of our communities," Rosena Allin-Khan declares, as she speaks with IBTimes UK in a local café.
The 39-year-old has been selected by Labour to defend Sadiq Khan's now old constituency of Tooting, South London, in the seat's 16 June by-election. Khan, who beat Conservative candidate Zac Goldsmith to succeed Boris Johnson as the new Mayor of London in May, had represented the constituency since 2005 and was well-known in area for his work as a prominent human rights lawyer.
Allin-Khan, who works as an A&E doctor at St George's Hospital, insists that her background and upbringing means she can follow in Khan's footsteps and become a "champion" for the seat.
She adds: "I say communities because Tooting is a fantastic collection of a number of communities that all live together, work together and are proud of the fact that they come from Tooting.
"My mum's Catholic, my dad's Muslim, I come from a very, very mixed background – I went to a Church of England school. I've done lots of interfaith work, as well as that I'm a local mum so I'm out and about with local mums and dads. Parents feel their issues are my issues because I also want to raise my two little daughters in a safer, green and cleaner Tooting."
Allin-Khan will not have a clear run to parliament. In fact, she is up against tough competition in the shape of Dan Watkins, the Conservative candidate for the by-election. The businessman was around 2,800 voters behind Khan in the general election last May and is a familiar face in the community. But Allin-Khan, who also serves as deputy leader for Labour's group on Wandsworth Council, has the momentum behind her after Khan's victory.
As for aspirations, the University of Cambridge graduate reveals she first wanted to become a doctor at just three years old and joined Labour while studying for her medical exams. "I was told by my dad that my grandma was blind and, as you do when you're a child, you just really want to make her better again. That passion to help people and become a doctor started early on," Allin-Khan says.
"But really it was through my humanitarian aid work that I realised that following a political path as well enables you to do lots for people – not just at the grass-roots level, but actually at a higher level as well so you can affect a greater number of people."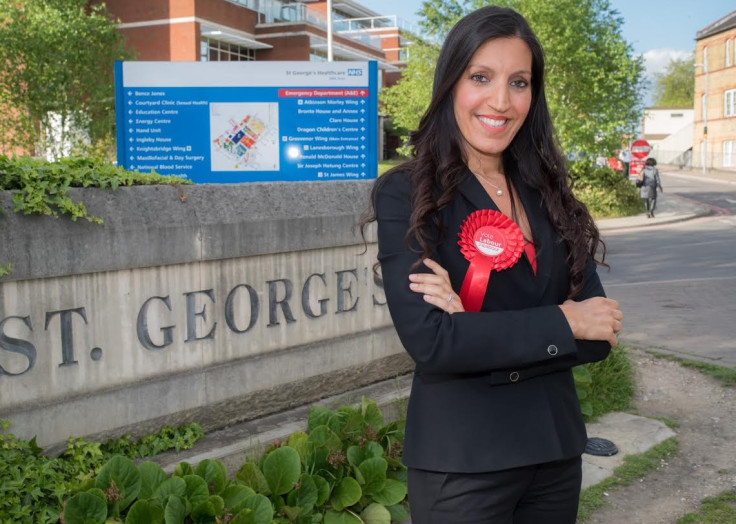 Her bid to enter parliament comes at a turbulent time for Labour, with the parliamentary party still adjusting to Jeremy Corbyn's left-wing leadership and a mixed-bag of results from the May elections, which saw Scottish Labour pushed into third by the Tories in Holyrood. So where does Allin-Khan rank herself on the political spectrum – a hard-line Corbynista or a right-wing moderniser?
"I'm an issues-based politician really," the Labour hopeful insists. "It's about the issues that matter to people in Tooting like our NHS, making sure we have affordable homes for people to buy and rent, making sure our streets are safe and bringing our police community support back to the streets. For me, it's not about left or right, it's about working hard for the community of Tooting and being their local champion, and standing up for them in parliament."
Allin-Khan is favourite to win the by-election, a vote which will undoubtedly be overshadowed by the EU referendum. So before finishing our coffee, IBTimes UK asks the Labour candidate what issues she would campaign on in the House of Commons?
"There are a number important things that I feel really strongly about – health, housing and our local businesses," Allin-Khan says. "But if you were to ask me to pick one, my vocation is that I'm a doctor, I work on our NHS front line and I'm so saddened to see that myself and my colleagues – nurses, doctors and hospital porters – we have to make life or death decisions based on costs.
"I work at the cutting edge, I see gunshots, stabbings and people having heart attacks. I see that we can't deliver the best possible service for our patients in Tooting and with a wider reach based on costs."