We've all been given a gift for Christmas or a birthday which we either don't like, don't want or would rather swap for cash – but it's not always that easy to ditch the undesirable if you choose to sell it on eBay.
Simply slapping up a picture and a price on eBay might be the quick but it won't get you the sale you're after and will often take much longer to sell then you'd like. But if you approach selling online in the most professional manner using a few simple tricks you'll be fanning yourself with bank notes before you know it.
Let us walk you through the best ways to get rid of your goods with our ultimate guide to selling on eBay.
Common eBay acronyms
EUC: excellent used condition
FC: fine condition
G: good condition
GU: gently used
MNT: mint condition
NBW: never been worn
NIB: new in box
NWT: new with tags
For more, visit eBay
Tips and tricks to selling on eBay: It's all in the detail
Firstly make sure you have the best product title possible. A browsing buyer's attention is hard to attract so this helps your product appear in search and also stand out from all the other identical listings. Take advantage of the character count and be sure to be clear – with clarity comes confidence.
Double check you have input the correct product name. This might sound obvious but people often incorrectly list television and mobile phone models. Be sure there are no spelling mistakes as you'll get lost in listings and this is another indication of how professional a seller you are.
If your product is brand new or comes with purchase tags put this in the title – even better, include it first as it's eye-catching. Use abbreviations like NIB (New In Box) to help keep your title snappy.
Tips and tricks to selling on eBay: Pictures
Including multiple photos from different angles of your product is a great way to sell. You can provide a tremendous amount of detail with a few snaps and it shows how honest you are as a seller as you've laid the product bare.
A well-taken photo is a clever trick to increase your chances of a sale as presenting your product in the best light can make it look more desirable. Clean white backgrounds are a safe choice (avoid things like the dog or a pile of laundry in the shot) and be sure to show off any tags and packaging. If you've got reflective items be careful of what's in shot, you don't want to be added to the internet's pile of eBay photos fails.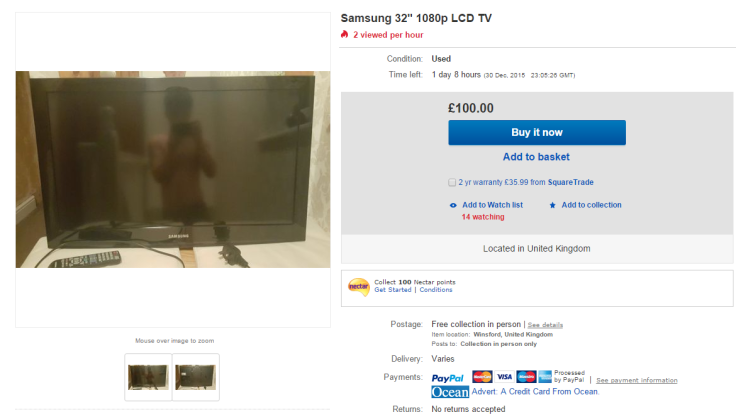 If you've recently purchased it and still have the receipt consider including this in the photo as it adds authenticity and could help sway buyers if they see how much more you paid for it in-store.
Using generic photos found on the web doesn't help buyers see what they're buying. If you're selling something like a games console don't use an image you've nabbed from a manufacturer's website or Amazon. Even if your console hasn't left its box, still take a picture of your product.
If the product has any defects or cosmetic damage take a photo of it. It's better to be honest as it'll only be a waste of your time when a buyer complains and returns it. It can also lead to you receiving negative feedback or being reported in some cases.
Tips and tricks to selling on eBay: Good description
A good description is key to a quick sell. Well-constructed, detailed text can help buyers know everything they need about the product and help reassure they can trust the seller. You don't have to write an opus but including the essential features is important. Providing a link to the product's website is useful.
Even the simplest things, such as a polite sign-off like 'thank you for bidding!' can have people clicking to buy it now. If you're tempted to format your text in extra large, bright red – don't. A bit of bold here and there is fine but keep it simple, tidy and legible – just as you would if you were selling in person. Visually offensive advertisements are a real put-off.
Tips and tricks to selling on eBay: Best time to list
Whether you're selling via auction or a straight-up buy it now choosing when to list your item should be a consideration. Listing items for buy it now should be up on, or just before, the weekend as, logically, this is when most people have the spare time to shop online. Listing your item on a Tuesday runs the risk of being pushed down lower on the results if others also list theirs later in the week.
If you're setting an auction to end at a specific time try to aim for Sunday evening, as we've found this to be most effective. Use common sense and don't end an auction during weekday working hours as fewer people will be able to bid on it. We recommend the optimum auction length to be a week. If it's too long people will forget about it.
Also, the time of year is highly influential to how successful a sale can be. Seasonal items will obviously do better at certain times of the year, so good luck trying to get rid of that ski jacket in the middle of summer. The weeks before Christmas you will see a lot of activity and deciding to list around payday is not a bad idea either.
Tips and tricks to selling on eBay: Nice looking package
As mentioned above, good photos are essential. An easy way to make a used item look almost new is to photograph it in its original packaging. Seeing an item wrapped in plastic or cable-tied neatly as if never used is a simple and effective trick to get more cash from your sale. If you don't have the original box for things like an iPhone or games console these can easily be bought online for a few pounds. Having the box, instructions and cables really can be a deal breaker.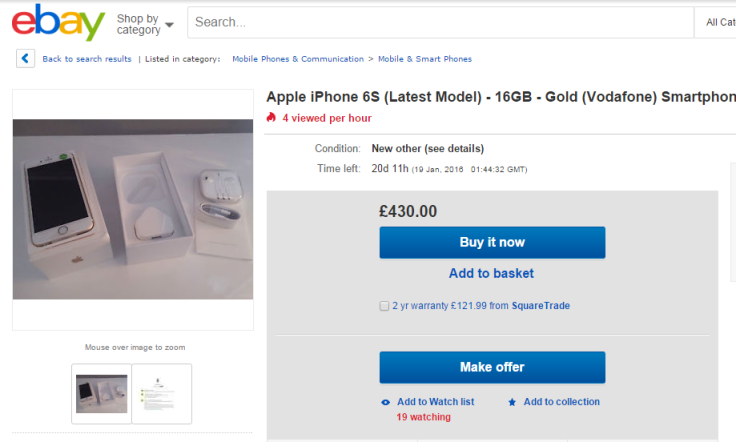 Tips and tricks to selling on eBay: Communication is key
Answer questions from buyers as quickly and as professionally as you can. Giving a speedy reply will help prevent buyers enquiring with other listings. Replying with one word answers or sentences full of slang and text speak are major put-offs. A good line of communication will help buyers trust the seller and buy with confidence.
Tips and tricks to selling on eBay: Be realistic with pricing
To get the sale you want to offer an attractive price tag. If you don't know at what price you should list your item, simply do a search for a product just like yours and see what they're going for. Adjust your price accordingly taking into account condition, age or what it comes with.
Auctions starting at £0.99 will always catch the eye of people looking for a bargain and it's cheaper to list. You can always set a reserve price if you're worried it'll go for too low. Even if there's a few hours left and it's nowhere near the price you're after, don't panic. Auctions end in a flurry of bids and you can often end up selling for more than you expected.
Whatever you do, don't be tempted to get a friend or use a fake account to push the price up. This is against online eBay policy and you will be banned if found out, which is more than likely.
Tips and tricks to selling on eBay: Calculate delivery costs
Charge the exact amount your posting will cost. Charge too much and buyers will be reluctant to buy your item; charge too little and you'll end up footing the bill. It is attractive to offer free postage and could help sway potential bidders but only do this if you're happy to take the hit for the sake of a sale.
For large items use a courier company website to calculate the price of your parcel to avoid any nasty charges. You will often find discounts and voucher codes for first time customers of courier companies so have a look around and you could save some money. If you're an individual seller, rather than a company, in our experience we'd recommend avoiding worldwide shipping as returns and logistics can prove problematic.
Tips and tricks to selling on eBay: Note serial numbers
If you're selling an electronic item like a mobile phone or games console be sure to note down its serial number before you post. Having this will help prevent any opportunistic people buying your item, swapping it with another and returning it to you for a full refund claiming it doesn't work or was faulty upon arrival.
Tips and tricks to selling on eBay: Save money on free days
If you're a prolific eBay user listing fees can start to rack up. Keep an eye out for eBay offering free listing days and discounts on multiple items. They happen fairly often and you'll more than likely get a promotional email telling you when you can take advantage of them.