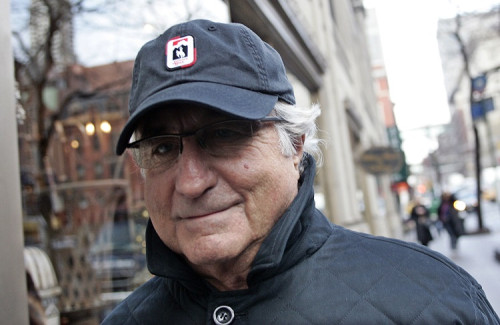 Bernard Madoff mastereminded a Ponzi scheme worth a mind-boggling $65bn in 2008, but five years later the courts are still being kept busy by a raft of lawsuits.
In 2009, Madoff pleaded guilty and was sentenced to 150 years in prison for controlling the biggest Ponzi fraud yet detected. His brother Peter Madoff also pleaded guilty in 2012 to his part in the fraud and was sentenced to 10 years' jail.
But where has the money gone? Irving Picard, the trustee acting for the Madoff victims and by the US attorney's office in Manhattan, has so far clawed back $13bn, or 74% of the money that vanished. A $2.35bn victim fund is also being distributed.
JP Morgan Settlement
JPMorgan has also had an eventful year.
Regarding a $2bn settlement in the Madoff case, the bank has been aggressively fighting regulators' requests for information over the last few weeks concerning its role as Bernard L Madoff Investment Securities' (BLMIS) primary banker.
That included contesting an administrative subpoena issued earlier this year by the Treasury Department Inspector General's office.
In a 2011 interview with the Financial Times, Madoff predicted JPM would have to pay a big settlement because there were "people at the bank who knew what was going on".
JPM, which was Madoff's banker for two decades, has consistently and strenuously denied any knowledge of Madoff's true activities.
According to court papers filed by Picard, JPM had grave doubts about Madoff 18 months before his scam unwound. The bank filed a "suspicious activity" report with UK authorities in 2008 but did not take a similar step in the US.
The settlement is imminent.
2013 Legal Proceedings
Madoff chief financial officer and stalwart Frank DiPascali - who potentially faces 100 years in jail - became the US government's star witness in the trial of five former Madoff employees.
These were: back-office manager Daniel Bonventre; portfolio managers Joann Crupi and Annette Bongiorno; and computer programmers Jerome O'Hara and George Perez. All denied knowing what was going on and claimed Madoff had convinced them that the business was legitimate. A verdict is not expected for several months.
Other colourful testimony from DiPascali included revelations that Madoff had spied on two US Securities and Exchange Commission investigators who were assigned in 2005 to probe his firm.
Most recently DiPascali said his brother-in-law Robert Cardile, one of his subordinates, helped prepare falsified records that were presented to SEC auditors. He said Cardile was also present when Madoff discussed details of the scheme.
It is not known how many more people will be charged in connection with the case.
Compensation Wrangling
In November, it was announced that thousands of indirect investors and third-party victims of Bernard Madoff's fraud could start chasing an additional $2.35bn in compensation.
The money was being held in a Madoff Victim Fund and overseen by special paymaster Richard Breeden, a former US Securities and Exchange Commission chairman.
The Justice Department decided to exclude Kingate Management, a hedge fund that invested heavily in BLMIS, from payments out of Breeden's victim fund.
The aim of the victim fund is to reimburse victims more swiftly than if they had to wait for payment from an intermediary's legal settlement.
But discussions between Kingate and Irving Picard aiming at an $800m settlement, collapsed.
Breeden defended the move and said he prioritised returning cash to Madoff's victims over Picard's negotiations with various feeder funds.
"You can't say the distribution of a couple billion dollars to the victims of crime has to structure itself around commercial litigation settlements. It's the other way around," he said.
And time may very well be of the essence. The significance of the five-year anniversary of Madoff's fraud also carries criminal ramifications because many charges, including securities fraud, mail fraud, and wire fraud, carry a five-year statute of limitations.