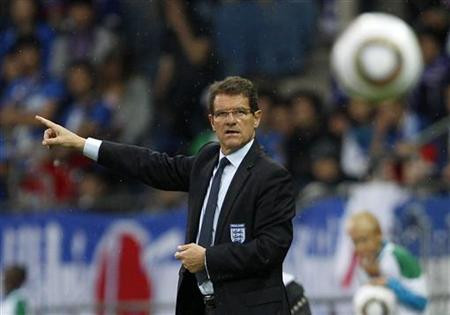 Harry Redknapp
The favourite to replace Fabio Capello, Harry is currently manager of Tottenham Hotspurs where he has led them into the Champions League and FA Cup final in one season after narrowly avoiding relegation. With widespread public support, Harry has to be the choice candidate given his vast experience in the domestic game and popularity amongst English players. The Football Association, which has given Capello two weeks - will assume responsibility for deciding what course of action to put before the FA's international board.
Speaking to the press following England's collapse, Harry was pointedly asked if it was time for an 'Englishman' to do the job to which he was unable to look toward the cameras for an answer.
"I'm English, who wouldn't want to manage England?"
"There's not an Englishman - whether it's me, Roy Hodgson or Sam Allardyce - who would turn the job down because it's our country and we want to manage our country."
However, Harry faces stiff competition for the job with Roy Hodgson also performing well recently at Fulham and several young Englishmen in with a shout.
Roy Hodgson
Roy Hodgson, manager of Fulham, is second choice to become new England manager however has had his odds cut recently by an offer for a job with Liverpool football club.
Stuart Pearce
'Psycho' has been a passionate figure in English football since his 1990 World Cup penalty, which failed to go in, followed by a Euro '96 cup final shootout win against Spain in which he scored earning the praise of the terraces. His management record has been tarnished by a stint at Manchester City in 2007, however a role as England's Under-21 manager has put him in the reckoning.
Alan Shearer
An outspoken critic of England's performance, Shearer has almost certainly put himself in with a shout however faces stiff opposition due to his lack of experience. Almost a certain to be included in the new England set-up after his outstanding service to his country during his 60 appearances and 30 goals for his country.
Sam Allardyce
'Big Sam' was once quoted by Portuguese manager, Jose Mourinho as the manager he would least like to get into a fight with and would be a fearless figurehead for an England team that could dominate the World Cups. His record at Bolton speaks for itself with eight years at the Division 1 club bringing promotion and European football. However, with a bedding in period at Blackburn Rovers still going on, it would be unlikely for him to leave it, especially when he is considered unpopular following his stint at Newcastle United.