Top garden pest of 2015 named as Box Tree Caterpillar by Royal Horticultural Society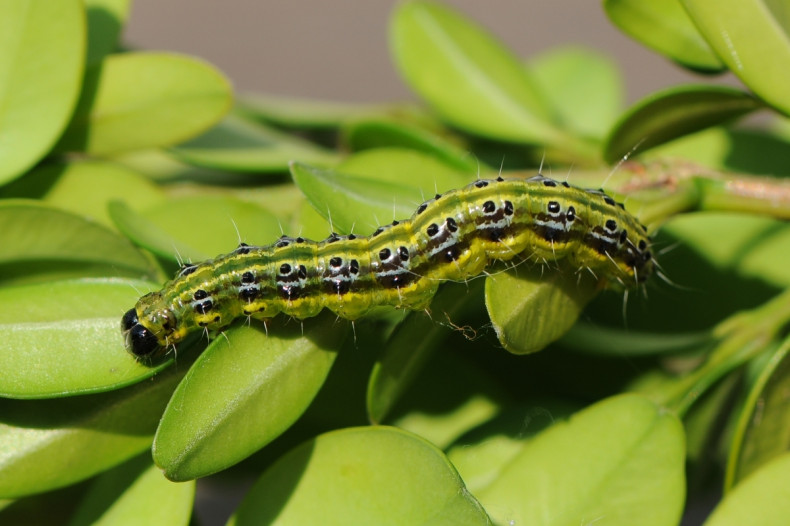 The box tree caterpillar was named as the UK's top garden pest on Friday 18 March by the Royal Horticultural Society (RHS). The list of pests is compiled based on enquiries received by the RHS Gardening Advice team.
This is the first time in nearly a decade that the list hasn't been topped by slugs and snails. which came a close second for 2015.
Top Garden Pests 2015
Box tree caterpillar / moth
Slugs/snails
Aphid
Large cabbage white butterfly
Vine weevil
Cushion scale
Lily beetle
Rosemary beetle
Fuchsia gall mite
Woolly aphid
The box tree caterpillar is the larvae of the box tree moth and was first seen in the UK in 2011. The RHS said that the bug is already "prevalent in the home counties" and spreading across the south-east of England. The box tree caterpillar is native to East Asia and cover plants in a webbing underneath which they feed on the leaves. They are found in box plants (buxus) and can reach 4cm long.
The RHS suggests that caterpillars found on plants be removed by hand or the affected plant be sprayed with insecticide – though it mentions not to do this near plants in flower as it can harm bees.
Enquiries about slugs and snails still remained high, the RHS said, adding that the warm and wet weather of the last year also contributed to the presence and longevity of pests.
Head of Plant Health at the RHS, Gerard Clover said: "Dealing with pests and diseases is a daily reality for gardeners... We are currently undertaking research that we hope will mean that slugs and snails will become less of a problem in the future, as we work to determine the most effective ways of controlling them. The project will provide gardeners with the robust, evidence based information they'll need to confidently take on slugs and snails.
"We are also working with the National Trust, whose properties include many historic gardens, to manage the threat of box blight and are looking to identify ways to mitigate the effects of box tree moth."