Top Labour MPs blast John McDonnell over 'inevitable open borders' prediction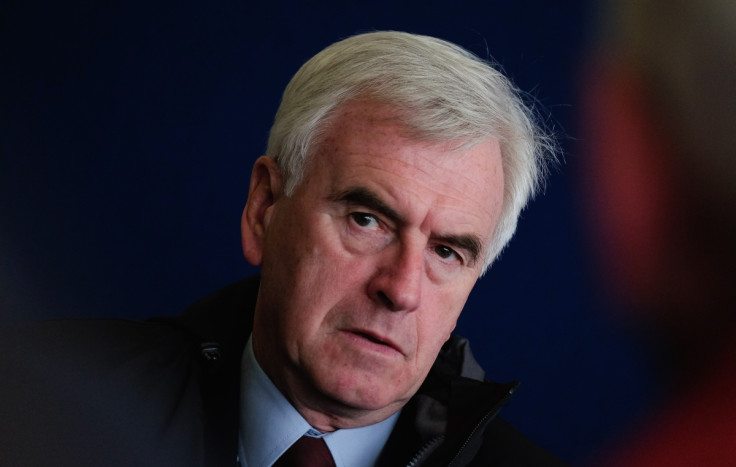 Shadow chancellor John McDonnell has come under criticism from his own parliamentary party after he claimed open borders would be "inevitable". The Jeremy Corbyn ally made the controversial comments after pressing George Osborne over the government's tax settlement with US technology giant Google.
McDonnell even published his own tax return and urged the Chancellor to do the same after Osborne hailed Google's £130m ($185m) tax payment to HMRC as a "victory", in spite of it being backdated to 2005. But the shadow chancellor drew attention to himself when he was questioned about the European refugee crisis on the BBC's Sunday Politics show.
"Inevitably in this century we will have open borders," he said. "We are seeing it in Europe already. The movement of peoples across the globe will mean that borders are almost going to become irrelevant by the end of this century so we should be preparing for that and explaining why people move."
Kate Hoey, a former minister and co-chair of the Eurosceptic Labour Leave campaign, told IBTimes UK that her party's supporters do not back open borders. "Labour voters want to see an immigration system that is fair and where we can control our own borders," she argued.
Yvette Cooper, who leads Labour's Taskforce on Refugees and challenged Corbyn for the party's leadership, also criticised McDonnell. "Border checks are really important for managing the refugee crisis – including stopping trafficking gangs, protecting child refugees who are disappearing in Europe, making sure proper asylum assessments take place so refugees get swift help and preventing people from travelling illegally if they are not refugees and have a safe home to return to," she said.
Cooper added: "Labour needs to maintain a policy in favour of firm and effective border controls alongside help for refugees. I also disagree with McDonnell about what will happen in the coming decades. Given the challenges we face, proper border checks are likely to become more important not less in future."
Thom Brooks, a University of Durham academic and Labour Party member, was more sympathetic towards McDonnell. The law professor said the shadow chancellor was right to highlight that people are "more mobile than ever before". But stressed it was important to ensure that Britain's border controls are "fit for purpose".
"I am confident that McDonnell and the Labour front bench are committed to that – and that the public has grown tired of ineffective Tory gimmicks dressed up as an immigration 'policy'," Brooks added.
The UK government has promised to take 20,000 refugees from Syria across the course of the current parliament, which will end with the next general election in 2020. Cameron recently claimed Labour supported an "open doors" immigration policy after commenting on Corbyn's visit to refugee camps in Calais and Dunkirk. However, the prime minister faced criticism himself for calling the people "a bunch of migrants".
© Copyright IBTimes 2023. All rights reserved.