Arrests made as far-right Britain First march makes its way through Dewsbury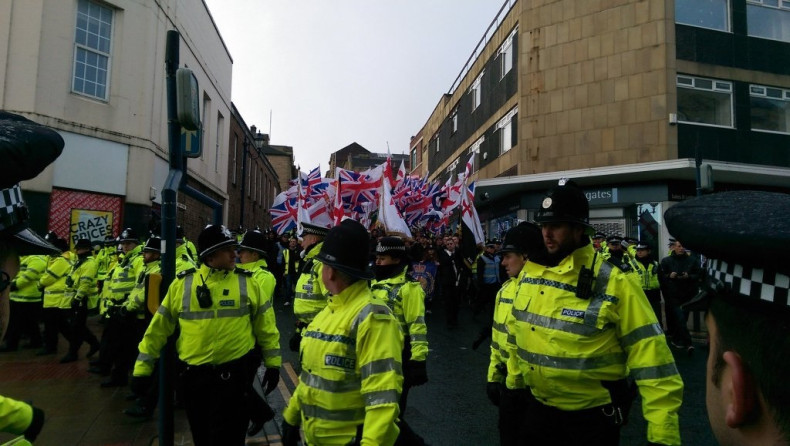 Arrests have been made at a Britain First demonstration in Dewsbury, as more than 100 supporters and opposing factions took to the streets of the West Yorkshire town. The far-right anti-immigration party marched from the town's main train station to the town hall, under the guidance of a heavy police presence.
The right-wing nationalist group was separated from anti-fascist campaigners who had come to protest at the group's presence. West Yorkshire Police imposed restrictions on the protest forcing the group to change Britain First's route and barred them from holding placards marked, "No More Mosques".
The right-wing group says that they campaign against "the scourge of hate preachers, extremism, terrorism, halal slaughter, FGM, child brides, radicalisation, 'Trojan Horse' infiltration of our schools, grooming gangs, and Sharia courts".
The organisation, headed by Jayda Fransen and Paul Golding, had previously marched in Bury Park, Luton, where they have also begun so-called 'Christian patrols'.
Dewsbury has a considerable Muslim population, with many residents of Indian or Pakistani descent. Golding told Sputnik News, a news agency owned and operated by the Russian government: "Dewsbury is the 'Islamist capital' of Britain and has produced many terrorists and Isis volunteers. We are going to Dewsbury, the beating heart of UK terrorism, to make a stand."
Skirmishes in Dover
The Dewsbury protest came as skirmishes broke out at a service station in Dover between anti-fascists and right-wing groups. Anti-fascist activists claimed that their coach windscreen was smashed by their rivals and a swastika was daubed in blood on the side of their vehicle at a Maidstone service station.
A counter demonstration was arranged by group called We Are Dewsbury who said in a statement: "We urge members of the local and neighbouring communities and further afield to come and show their support by standing up against fascists and racists such as Britain First and others who seek to divide our communities."
Britain First, which was founded by Scottish anti-abortion campaigner and former BNP fundraiser, Jim Dowson, claims to be defending "traditional British Christian values" in the UK. Golding has often used religious rhetoric to drum up support.
Paula Sheriff the MP for Dewsbury said: "I'm really disappointed that Britain First has come to our town. But we are tough and they won't beat us. We're a town that has got incredible diversity and we live in fantastic harmony."
In an interview with IBTimes UK, Fransen insisted her group "did not spread hate" and said it was undeterred by the criticism following the Luton "patrol". The 29-year-old, who is the only female figurehead of a right-wing movement in the UK, instead suggested UK towns would see an unprecedented level of action by Britain First this year.
She said: "In recent months, our group has grown enormously, with membership swelling by the thousands. We now have Britain First brigades across the country and it's common knowledge our social media reach is bigger than any other political party.
"People can expect a large amount of action for 2016, it's going to be our year. We have so much planned and there are now so many people in our group at an activist level. Our country and Europe is heading for a civil war. Our leaders have sold us out and the way to save us is to head for the streets."