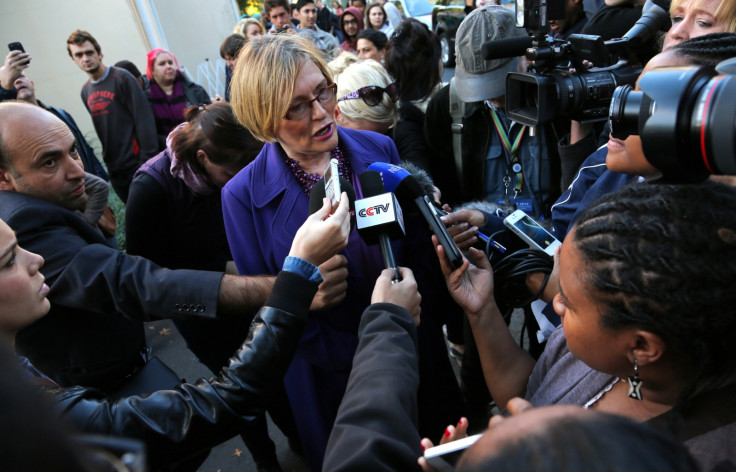 The former head of South Africa's main opposition party faced suspension from party activities on Saturday following tweets in which she said colonialism had some positive results.
The uproar over Helen Zille's comments underlined the challenges facing the Democratic Alliance, whose roots lie in white liberal opposition to apartheid decades ago. The party has broadened its appeal and made big gains in local elections last year, but the ruling African National Congress still dismisses it as primarily representative of South Africa's white minority.
Zille, who is white, tweeted in March that the colonial legacy was not only negative, citing "our independent judiciary, transport infrastructure, piped water etc."
Race relations remain a sensitive topic in South Africa, which held its first all-race elections after the end of white minority rule in 1994. Many South Africans criticized Zille, a former journalist and anti-apartheid activist who is now premier of the opposition-controlled Western Cape province.
Zille's comments damaged the party and undermined reconciliation efforts in South Africa, said Mmusi Maimane, a black who replaced Zille as party leader.
"We live in a fragile democracy, which means our public representatives must, at all times, be sensitive to the legitimate anger that people still feel about our past and its legacy," Maimane said in a statement.
Party leaders have decided that Zille should be "suspended from all party-related activities until such time as her disciplinary hearing is concluded," Maimane said.
The party leadership has written to Zille, informing her of their plan to suspend her pending a disciplinary hearing, the Democratic Alliance later said. She has three days to present any arguments about why she should not be suspended, it said.
Zille said there were conflicting statements from party leaders about whether she was suspended, and that the party has no right to find her guilty before the disciplinary hearing.
"I cannot be bullied into resigning or incriminating myself," she tweeted. Zille also disputed Maimane's comment that she had declined to apologize, saying she had done so publicly.