Bosses of top UK firms were twice as likely to be forced out of office compared with their counterparts in North America in 2013.
According to research from consultancy Strategy& (formerly Booz & Company), which investigated trends in chief executive officer (CEO) success and successions at the world's largest 2,500 public companies, the number of forced exits in Canada and the United States sat at just 1.6% – much lower than the UK's 4% rate.
The research also revealed that the CEO turnover rate in the UK was 15% in 2013.
This is down from 16% in 2012, but the rate is higher than the regional rate for Western Europe of 12.9% in 2013.
"In the UK we hire more CEOs who come from different industries and geographies and have a diverse bank of knowledge and experience compared with equivalent chief executives in other global regions," said Richard Rawlinson, a partner at Strategy&.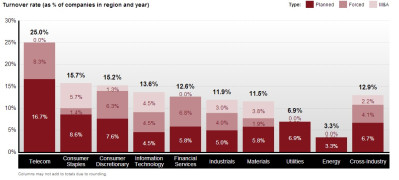 "This year's study also highlights how UK CEOs were twice as likely last year to be forced out of their role than CEOs in the US and Canada, underlining the important differences in corporate governance between the two regions."
The study also found that more than half (51%) of incoming CEOs in the UK had worked in other regions – much higher than the global share rate of 35%.
In addition, only 59% of incoming CEOs in the UK have the same nationality as their company headquarters, less than the global share (80%).
The research also revealed that top UK companies appointed CEOs with more diverse industry experience.
More than six in ten (63%) of incoming CEOs in the UK last year had joined their current company from a different industry, greater than the global share at 42%.