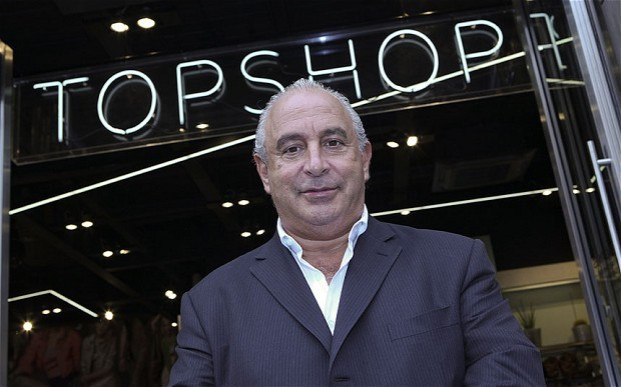 Topshop owner Sir Phillip Green is among a group of tycoons who have been summoned to give evidence in a multimillion pound divorce case as it reaches its conclusion.
Fashion and property tycoon Richard Caring and retail entrepreneur Harold Tillman will also be cross-examined at the High Court during the divorce proceedings of property and telecoms mogul Scot Young and his estranged wife Michelle.
The pair have been involved in a bitter divorce settlement for the past seven years. Mrs Young is seeking a share of the £400m ($650m) her husband is believed to have possessed in 2005.
Young, 51, who declared himself bankrupt in April 2010, failed in his attempt to stop the men being questioned by his estranged wife. He claims they have paid her hundreds of thousands of pounds in support during the seven-year legal battle.
Mrs Young, a 48-year-old former model, claims the money she has received from the businessmen in fact came from Young himself, and he channelled the money through them as a "conduit for his secreted wealth."
Although Young claims he lost his £400m fortune in a disastrous Moscow property venture, his estranged wife claims he continues to live a lavish lifestyle and is hiding the money in off-shore tax havens.
Earlier this year, the tycoon was jailed for a "flagrant and deliberate" contempt of court after repeatedly failing to disclose what happened to his assets. He still owes his wife almost £1m in maintenance, as well as £1.28m in unpaid tax.
In a High Court hearing, Judge Justice Moor said it would be "ridiculous" if the former model did not challenge the businessmen about where the money came from.
He added: "I consider it almost inconceivable that she would not be able to challenge them. If these people are saying that they funded Mr Young then she is entitled to cross-examine them."
Topshop tycoon Green said he paid two cheques for £80,000 to an estate agent in 2008 to help Mrs Young pay the rent on her home near Regent's Park, London.
He said that he doesn't know why Mr Young has failed to produce evidence proving these payments, reports the Independent.
Jaeger fashion boss Tillman also claims he paid £30,000 to support Mrs Young and Caring is said to have paid £50,000 towards Mr Young's legal costs during the divorce.
The divorce hearing is expected to last for four weeks.