Conservative MPs have welcomed Theresa May's 6,300-word Brexit speech ruling out "anything that leaves us half-in, half-out" of the EU, but it has also triggered criticism from around Europe.
The prime minister dropped a strong hint that the UK will reject a punitive deal and ruled out continued membership of the single market as part of her 12-point Brexit plan. Adopting a tough stance, May sent a warning that she is prepared to walk away from negotiations if it is not in the country's interests, stating: "No deal for Britain is better than a bad deal for Britain."
May's speech ended months of speculation over the flavour of Brexit and European leaders welcomed the "clarity" it provides as negotiations loom. The prime minister has previously said she will trigger Article 50 – which sets Britain's divorce proceedings from the EU in motion – by the end of March.
"She [May] set out a powerful and ambitious vision for this country, so that we can see exactly where we are going, and how we will get there," Boris Johnson wrote in the Telegraph. "Point by point, she nailed the so-called ambiguities.
"She explained – to Britain and the world – how we can leave the EU, and yet not leave Europe." The foreign secretary added that countries "are already queuing up" to strike trade deals with Britain once it leaves the EU.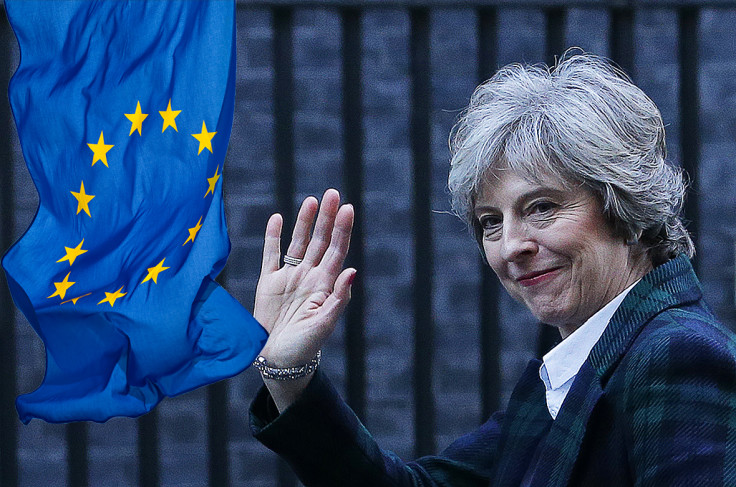 The prime minister's speech was welcomed by both Conservative Remainers and Brexiteers in the Commons. "I think it's realistic," said Remain campaigner Anna Soubry. "I think it provides much needed clarity and I think the tone is to be hugely welcomed."
Eurosceptic MP Sir Edward Leigh said: "I think we should loyally support the government. After the welcome tone of today's speech, it is not hard Brexit, it's full Brexit."
Prominent Leave campaigner Dominic Raab said: "This is a detailed and positive plan for an ambitious post-Brexit Britain. As an independent, self-governing democracy, we want to be a firm friend to Europe but a global player with the broadest horizons. It's time to turn the page from the referendum and unite as a country so Britain can go from strength to strength."
While the detail provided by May was widely welcomed, Jeremy Corbyn hit out at the "implied threat" to turn Britain into a "low-corporation tax haven" if it is denied access to the single market. Speaking on BBC Newsnight, the Labour leader called it an "odd way of approaching a constructive relationship with a whole continent".
'Vague fantasies and toothless threats'
Lib Dem leader Tim Farron delivered a damning verdict on May's speech, branding it "a mixture of vague fantasies and toothless threats to our nearest neighbours."
He added: "The public voted for departure, and they should therefore be given a vote on the destination. This is a theft of democracy, to take Britain out of the world's most lucrative market against the wishes of the electorate."
European Council President Donald Tusk called it a "sad process" and "surrealistic times" but welcomed May's announcement on Twitter. He added: "EU27 united and ready to negotiate after Art. 50."
Meanwhile, the European Parliament's chief negotiator, Guy Verhofstadt, called on May to "take the concerns of the 48% on board". He tweeted: "Britain has chosen a hard Brexit. May's clarity is welcome, but the days of UK cherry-picking and Europe à la carte are over.
"Threatening to turn the UK into a deregulated tax haven will not only hurt British people, it is a counterproductive negotiating tactic."
Following May's speech, German leaders will meet later today (18 January) to discuss the next steps of Britain's "clean break" from the EU.