Tory leadership contest: PM hopeful Andrea Leadsom says falling value of pound 'a good thing'
Brexit campaigner vows to 'banish the pessimists' in speech outlining her leadership plans.
Tory leadership candidate Andrea Leadsom claimed the falling value of the pound sterling in the wake of Britain voting to leave the EU is a good thing during her speech on 7 July outlining how she would rule a post-Brexit Britain.
Billed as a major speech on Britain's economy, Leadsom promised to "banish the pessimists" and provide "prosperity, not austerity" during her speech in central London outlining why she wants to lead Britain.
Leadsom, a campaigner for Britain to Leave the EU, said: "I truly believe we could be the greatest nation on Earth as we show that the UK is once again open to the world and united in our new destiny, so we will expand our horizons.
"I want to spread prosperity to every corner of our country, I want to help create more jobs, because we need to hear and heed those millions of our fellow citizens who feel and fear that their country's leaders are not worrying about them enough.
"Those people who think that chief executives of some big businesses get telephone number salaries but bear no relation to the performance of their companies. And I say to all of those people - I am with you and I want you to share in the great future for this country."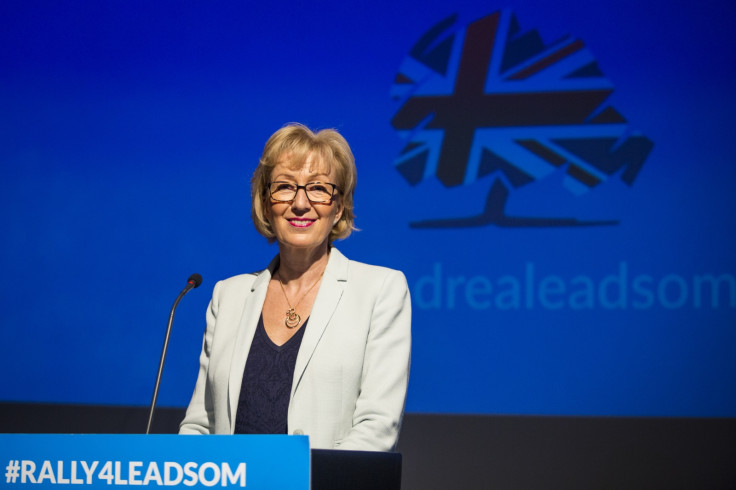 Speaking after the pound-to-dollar rate fell to its lowest point in 31 years, the Tory leader hopeful described the dramatic fall as "good for exports", claiming the stock market has already recovered from the EU Referendum vote.
"Already we can see that the forecast of a disaster for sterling, for equities and for interest rates have not been proven correct. The pound is weaker, partly as the result of the markets being wrong on the result of the referendum and partly on the expectation of interest rate easing.
"Lower sterling is good for exports and it makes inward investment more attractive, it means we may import less and buy more at home, all good things for our economy. The FTSE 100 is trading higher and outperforming other global stock market indices.
"The government cost of borrowing has dropped, with private sector loans still available at the same rates as before – that means the price of our state borrowing has fallen by a remarkable 40%, with 10-year interest rates below 0.8% vs 1.37% on 23 June."
Leadsom did not take any questions following the speech, but instead went off left to reportedly take part in the second round of voting in the Conservative leadership ballot.
In her place, a group of Leadsom supporters took to the streets, marching towards Westminster to show their support for the energy minister by chanting "What do we want? Leadsom for leader. When do we want it? Now."
© Copyright IBTimes 2023. All rights reserved.