The candidates in the race to become the new Conservative leader will be whittled down to the final two as MPs begin their second round of voting. Theresa May, Andrea Leadsom and Michael Gove are all still in the running after Liam Fox was voted out in the last ballot and Stephen Crabb dropped out soon after.
Both Fox and Crabb have backed May to become the new Tory leader now they are no longer in the running. The home secretary received 165 of 329 votes from her fellow MPs during the first round of votes, followed by Leadsom with 66 and then Gove with 48.
Once the result is known, the candidates will be narrowed down to two. The final result will then be decided with a vote by Tory members, with the winner to be announced on 9 September.
The vote will get under way as Leadsom, who from seemingly out of nowhere has become one of the favourites to take over from David Cameron, is set to give her speech on her post-Brexit Britain. The energy minister has received the backing of Boris Johnson and campaigned for Leave with the former mayor of London.
Leadsom has been forced to publish her CV following claims she had exaggerated her career in the finance industry, with her roles being described as anywhere from managing "hundreds of billions of pounds" to merely an "undermined" senior banker. Leadsom's previous jobs include roles at Barclays and Invesco Perpetual.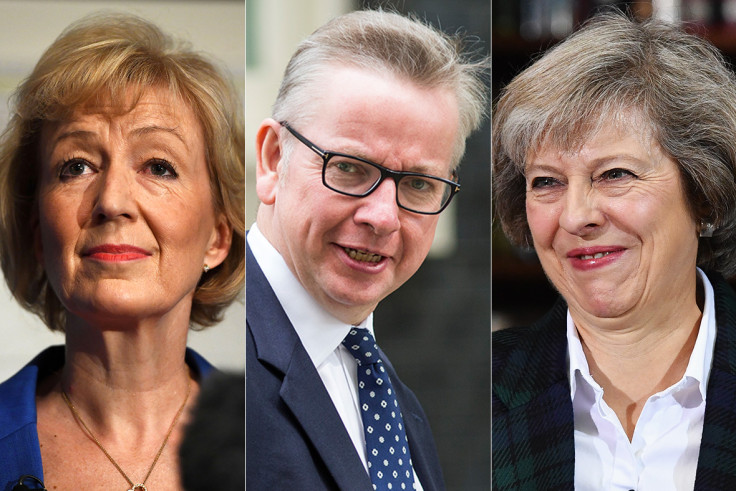 Elsewhere, Gove's campaign manager, Nick Boles, has been forced to apologise after sending a number of texts to MPs who said they'd support May urging them to switch to Gove as part of an "anyone but Leadsom" campaign. Boles said the justice secretary was unaware of the messages. He added: "He did not know about it let alone authorise it. And it does not reflect his views."
May, the bookies' favourite to become the new Tory leader, issued a statement against tactical voting. She said: "I have been clear from the start: the party and the country deserve an open, honest, robust debate — and the next leader needs to have won a mandate to lead. So there should be no deals, no tactical voting and no coronation."