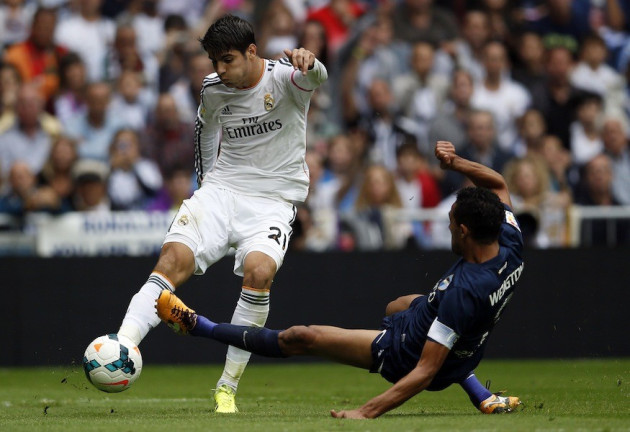 Arsenal are considering making a play for Tottenham striker target Alvaro Morata as the side attempt to beef up their attacking options and hold on to top spot in the Premier League table.
The Spaniard has been selected for Real Madrid 11 times this season and found the back of the net twice, and Spurs are believed to hold him in high esteem as they struggle with their frontline in the current campaign.
But the Daily Mail are claiming that Arsenal might steal the march on Tottenham and ask Madrid to release Morata on loan until the end of the season, as Arsene Wenger seeks support for Olivier Giroud up front.
Carlo Ancelotti is believed to be open to the proposition but only if he can find a replacement. The paper reports he has Robert Lewandowski and Luis Suarez at the top of his January wishlist and should he land either of these targets it's very likely that Morata will be allowed to leave.
While Tottenham are struggling on the goal front Arsenal are currently top of the table and Giroud has been in top form. But Wenger is experienced enough to be aware that the second half of the season is much more difficult to stay on top in than the first, as players tire and the squad becomes stretched.
While the manager has insisted that Nicklas Bendtner can provide support for his French hitman it would appear the out-of-favour striker's days at the Emirates are numbered, particularly as he publicly claimed that he is putting in more effort into training in order to try and seal a transfer away from the club.
Wenger has already done business with Madrid this season by signing Mesut Ozil and will be hopeful that they will allow another player to leave for the Emirates, even though Tottenham sold the Spanish giants Gareth Bale for a record-breaking fee just three months ago.