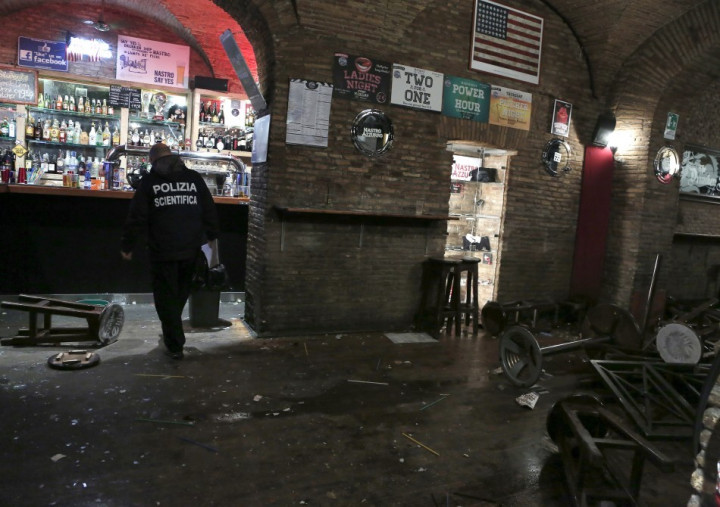 March 15, 2006, was a day just like Wednesday this week when Middlesbrough fans travelled to Italy to face Roma in the Uefa Cup.
Fans congregated at the Drunken Ship pub in Rome for drinking and singing, and the tragedy that ensued that night left three English supporters with stab wounds and a total of 13 injured.
The violence was described by police as organised and interestingly, Boro supporters remember that it was not just their attackers who seemed to have pre-planned the assault: there was an eerie silence by police themselves in the area just as Roma fans took over the bar.
Boro fan Laurence I'Anson was there on that fateful day, and at 18 years of age with a younger brother and two friends along for the away trip, he recalls how the pre-match celebrations at the pub turned into a nightmare very quickly.
"It was a typical away-day with singing and drinking in the bar and square," he told IBTimes UK. "We were towards the rear of the bar when it all kicked off.
"It was a massive commotion - people screaming and running all over. A lad kicked down a side entrance where we all escaped into the side street. I hear this was blocked off to Spurs fans. Maybe the 'Ultras' [Lazio's hardline supporters] had learned from our attack.
"We were safe but I know a few more who most certainly weren't."
While I'Anson remembers it being one of the best football trips he went on for all of the other factors involved, he insists that the lack of support from the authorities during the attack - and at the game - has left him with ill-thoughts of Rome.
"I wouldn't go back to Rome, especially with attacks on English fans each time a club goes there to play," he explained. "Nothing was done to protect us that night, with both sets of Italian police absent just as the attack was due to take place.
"There's huge agreement amongst Boro fans that it was all planned.
"Inside the ground their fans attempted to attack us but there was no chance due to fences between fans. The stewards were almost non-existent."
The story is chillingly similar to that experienced by Tottenham fans on Wednesday in the Drunken Ship, and is a poor indictment of just how little things have changed in Italy over the last six years.
For Spurs fans, their meetings with Lazio have been far from controversy-free. In the first leg of the match, racial chants were reported to Uefa and the Italian side was subsequently fined €40,000.
In the second leg, played 24 hours after the attacks at the pub, Lazio fans allegedly continued their anti-Semitic chanting at the Tottenham fans who still came to the match. As a result Lazio have again been reported to Uefa.
A multitude of questions still surround the incident, with eyewitnesses claiming there were around 20 attackers. Two have been arrested and charged with attempted murder. One question, also raised after the attacks on Middlesbrough fans, is what if the violence had been caused by England fans?
Rife violence
England supporters and their hooliganism has been well documented over the years. TV journalist Donal MacIntyre's undercover investigation of Chelsea's worst fans in 1999 showed how rife violence in football was throughout even the top teams, and authorities have since been thorough in curbing the hooligans from all forms of the game.
We're all well aware in England that violence still goes on at football and around it but that feeling of being unsafe when attending a local or European match seems to have disappeared for many fans. Nowadays, ticket prices are much higher on fans' agenda of grievances than whether they will be attacked en route to a match.
In Italy, however, violence seems to still be a very big problem of football.
Italian football has not gone without punishment over Ultra fans. In November 1973, Lazio were banned for a year for clashes between supporters and police in a Uefa Cup tie with Ipswich.
The ban was a massive thorn in the club's side: they won the Serie A at the end of that campaign but could not compete in Europe.
In the case of Tottenham - and Middlesbrough - it appears that rather than Lazio fans it was Roma fans who were the perpetrators of the violence. But should this be true, it encourages the theory that fans are not concerned with which team is playing, but merely which opposition supporters they are aiming to attack.
Other issues are now coming to light surrounding the Tottenham attacks, with political motivations making the situation about more than just football. But perhaps, with two incidents so similar taking place over seven years - with seemingly the only difference being that the assault was more violent - it is time that the footballing bodies seriously punished the side into controlling their fans as they did nearly 40 years ago.