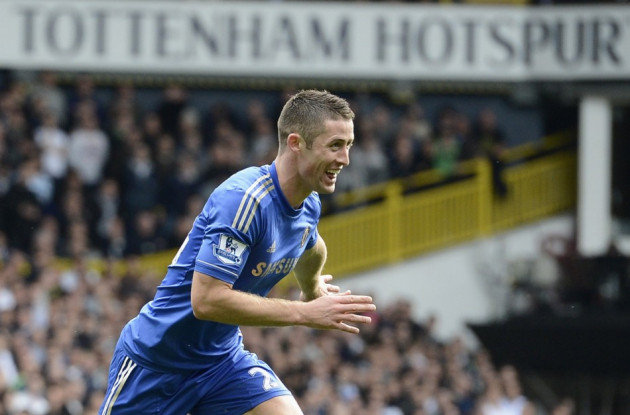 2.45: So Villas-Boas fails to gain revenge on the club that sacked him last season. Chelsea look like genuine title contenders this season, the trio of Oscar, Hazard and Mata were particularly impressive. Spurs missed Bale and particularly Dembele who has been superb so far this season. Fortunately there is plenty more football this Saturday afternoon with Manchester City, Arsenal, Liverpool and Manchester United all in action.
2.38: It's all over at the Lane and what a cracking game of football that was. Cheslea impressed throughout and showed some resolve to come from 2-1 down to secure an important three points. Mata was the man of the match and his guile was certainly the difference.
2.34: GOAL: Chelsea do finally get the goal that decides it as Mata steals the ball from Walker and puts it on a plater for Sturridge who taps home. That is a big win for Chelsea after falling behind early in the second half.
2.33: Now that is a great save from Cech after a thumping hit from Kyle Walker. Chelsea decide to make a late change as Lampard comes on for Hazard.
2.32: Cech spills one and it seems Adebayor will be able to tap home but he loses his footing and Chelsea survive. 90 seconds plus stoppage time remaining.
2.30: Torres has the chance to finish it as Mata finds his fellow Spaniard and the striker looks to curl it home but it goes just wide and clips the outside of the post.
2.29: Lennon tries his luck from the edge of the box but it is straght at Cech. This second half as utterly flown by and Spurs have five minutes plus injury time to find a equaliser.
2.27: Sigurdsson has a free-kick in a nice area as he looks to bend it into the far corner but his shot goes high and wide. It's now time for a Chelsea change as Oscar makes way for Daniel Sturridge.
2.25: This is an entralling game as both sides continue to attack. Chelsea know the best way to win this game is to continue going forward and looking for another goal. I don't think they could sit back and soak up pressure.
2.19: Now it's Oscar who brings another save out of the veteran American keeper. Spurs are struggling to handle the Brazilian who is linked superbly with Hazard and Mata.
2.18: Another substitution for Spurs and Adebayor comes on for Dempsey. The momentum has well and truly swung back in favour of Chelsea as Mata has another chance but cannot lift the ball over Freidel.
2.15: I think it is worth a mention that back in 2008 there was a game at the Lane which ended Spurs 4-4 Chelsea. Could we have a repeat of that game?
2.13: GOAL: Chelsea take the lead again and it is Mata again. A stunning pass from Eden Hazard finds the Spanaird in space and he curls the ball past Friedel.
2.12: AVB responds by bringing on Jake Livermore for Tom Huddlestone, who had struggled to get involved. Seconds later Defoe tries his luck from distance and Cech is forced to turn it round the corner.
2.11: GOAL: I said there would be more goals and we have one. It is a beautiful finish from Juan Mata who coolly slots the ball into the corner and it is now 2-2.
2.10: This is now a belting game as Chelsea push forward in search of a equaliser. Spurs will be dangerous on the counter as the Blues commit more men forward. I'll say it now, there will be more goals in this game.
2.05: Its another shot on goal from Tottenham and Sandro gets in on the act and his strike is low and hard but is safely collected by Cech. The Chelea keeper must be wondering what is happening, he has conceded two goals and had to make three saves in just 15 minutes.
2.01: Could that have a been a penalty? There is contact as Cole is seemingly clipped by Gallas but Mike Dean believes there wasn't enough for a foul. It is a corner for Chelsea though. That comes to nothing and Chelsea are shell-shocked at the minute.
2.00: GOAL: Tottenham take the lead and they are all over Chelsea at the start of the half. A mis-hit shot from Lennon falls to Defoe and it is a superb finish as he helps it past Cech.
1.58: The momentum is definitely with the home side at the minute. AVB will be desperate for his side to get another as Vertonghen is the latest to have an effort saved by Cech. The defenders are looking the most dangerous today.
1.55: Another chance for the Icelandic midfielder aas he drives into the Chelsea box and get his shot away. It's a good stop from Cech who holds the ball and Spurs are well in the ascendancy at the start of the half.
1.54: The Spurs faithful are in full voice now and Sigurdsson has a chance to put them in the lead. A deep cross falls to the former Reading man and his volley is deflected over the bar.
1.51: GOAL: We have the answer immediately as Spurs get the goal as Gallas heads home from no more than a yard out. A deep ball is helped across goal by Vertonghen and it is a tap in for the former Chelsea man. Game on.
1.49: Chelsea are yet to concede a goal in the second half in the Premier League this season. As we get underway, Spurs will be hoping to change that statistic. No changes for either side but I wonder how long it will be before Adebayor is introduced.
1.42: So what can Tottenham do to change the course of this game? Perhaps Lennon could switch flanks and try his luck against Ivanovic as he has got little change out of Ashley Cole. Villas-Boas will want his side to have more of the ball in the second half, while Di Matteo will be extremely pleased with how the first 45 minutes have gone. The old assistant is looking the master thus far.
1.33: Now it is Ramires who receives a caution for bringing down Aaron Lennon. There is just seconds before the half-time whistle and there we have it. Cheslea are looking confident and Spurs will hope for a better second half after struggling for possession throughout.
1.31: We are going to have three minutes of injury time and thus far it is the Chelsea fans who will be far the happier. They have looked good in possession and impressive on the break. We have another booking as Kyle Walker brings down the energetic Ramires who has looked superb today.
1.29: Tottenham are pushing forward and searching for the leveller before half-time. They have got themselves a corner and Dempsey smashes a shot goalwards but it is well blocked. Next it is Vertonghen who has a go but it is again blocked.
1.26: We have our second yellow of the game and this one is more deserved. Former Blue William Gallas goes sliding in on Torres from behind and gets none of the ball. Not the best 40 minutes for the Frenchman.
1.25: A chance goes begging for Chelsea as Mata hits a first time shot and it is well saved by Freidel. However, the ball comes back to the Spaniard and he really should do better with his second chance as he balloons it over the bar. Big chance.
1.23: From a Tottenham corner Chelsea are able to break at pace and they are four against three. Fortunately for Spurs fans they do not make the most of the situation and the homes side can now continue their search for an equaliser.
1.20: I wonder if we might see a change at half-time from Tottenham. Defoe is slightly isolated and perhaps the introduction of Emmanuel Adebayor might help. The Chelsea defence has looked far too comfortable.
1.17: Chelsea fans are enjoying being able to boast about their achievements as they proudly sing "Champions of Europe, we know what we are".
1.16: Right on the half hour, Spurs create a decent chance as a ball from Lennon is chipped to the back post where Sigurdsson has a small target to aim for. His low drilled shot is just wide but that is better from Spurs and crowd are lifted
1.12: This Chelsea side is very different to the ones of Mourinho and Ancelotti. Less power and more grace, but it seems to be working. Tottenham just struggling a touch. They certainly seem to be missing Dembele and Bale.
1.10: Diving is certainly a hot topic and i think Ivanovic has paid for the performance of others. He goes to ground without even claiming a foul and duly receives a yellow card. I've seen worse dives go unpunished.
1.05: Almost an instant reponse from Spurs as Deofe carries the ball forward and goes unchallenged before his shot is well stopped by Cech.
1.02: GOAL: What a goal that is from Gary Cahill. Eat your heart out Torres, Oscar and Hazard. This is a world class finish from the defender. A corner is headed clear by Gallas and Cahill comes in to hit it on the volley and it flys past Friedel.
12.59: Oscar proves he has more to his game that just flicks and tricks as he nicks the ball away from the Spurs backline and his ball through would have seen Torres with a clear route to goal but he is just offside. A slight warning to Tottenham though.
12.55: Chelsea go close as Oscar received the ball just outside the area and he is not closed down. He look to repeat the strike against Juventus but it dribbles harmlessly wide.
12.50: There is a good early pace to this game as both sides attempt to get an early goal and take control. Spurs are pressing well but there have already been glimpses of class from Oscar and Hazard.
12.48: We're underway and it is a noisy atmposphere at White Hart Lane. There is an early free-kick from Sigurdsson and he finds Gallas in acres of space. The centre-back has to swivel and hit in on his left and he can't make a good contact. If that was Defoe it might have been the opening goal.
12.43: The players are in the tunnel and there really is a feeling of excitement about a game with two sides who like to play attacking football. Forget about the negatives in recent weeks and simply enjoy a game that promises to be an absolute cracker.
12.40: Interestingly should Chelsea lose today then they will have the exact same record at this stage last season under Villas-Boas [six wins, one draw and one loss]. The Blues have had a decent record against Spurs in the Premier League but there is a feeling in north London that this side could be capable of big things this season.
12.35: We've seen the team news and Villas-Boas has showed his faith in Brad Freidel by restoring him to the starting line-up and the Portuguese boss will be desperate to get a win today. There is nothing worse than seeing your old club absolutely flying with a manager who was your assistant.
12.30: Team News: The big news is that Gareth Bale will miss today's game after his partner went into labour, while Moussa Dembele has also been ruled out through injury. Both players will be a big miss but AVB admits he has a big squad and will hope that Gylfi Sigurdsson and Tom Huddlestone will step up.
Tottenham: Friedel, Walker, Gallas, Caulker, Vertonghen, Huddlestone, Sandro, Lennon, Sigurdsson, Dempsey, Defoe. Subs: Lloris, Adebayor, Naughton, Dawson, Falque, Livermore, Townsend.
Chelsea: Cech, Ivanovic, Luiz, Cahill, Cole, Ramires, Mikel, Oscar, Hazard, Mata, Torres. Subs: Turnbull, Romeu, Lampard, Moses, Sturridge, Azpilicueta, Bertrand.
Referee: Mike Dean (Wirral)