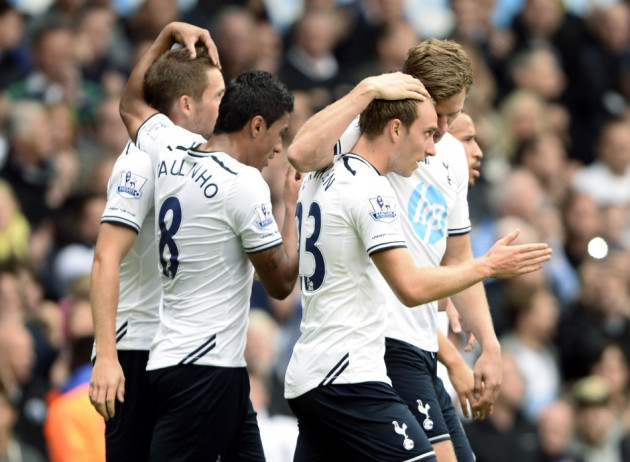 Christian Eriksen may have cost a fraction of what Arsenal paid for Mesut Ozil but Norwich defender Sebastian Bassong believes the Tottenham midfielder has many of the same qualities as the new Arsenal number ten.
Arsenal smashed their transfer record as they paid £43m for Ozil but it was Eriksen that grabbed the headlines on his debut thanks to an impressive overall performance that saw him instantly adapt to the Premier League.
Both men would provide an assist on their debuts for their respective north London clubs but it was the performance of the former Ajax midfielder that really stood out.
Eriksen may have won three league titles and played regularly in the Champions League but there were still question marks over whether he would be able to adapt to a more physical, and faster paced English game.
Bassong witnessed the ability of the Denmark international first hand as Tottenham defeated Norwich 2-0 and the former Spurs defender truly believes that Eriksen will soon be considered Ozil's equal.
"He knows where to put himself, between the lines," said Bassong, as quoted in the Express. "And as soon as he gets the ball he is a threat.
"He is a top-quality player and it's hard to know whether or not to follow him as he can make the difference as soon as he gets the ball, in a split second. That is how top players are.
"Ozil must be one of the best No10s worldwide, a fantastic player, and Eriksen is not far from him.
"Ozil is more famous, he has played for Real Madrid and has loads of games under his belt. But Eriksen is a player I really like, the way he moves.
"Hopefully, for Spurs and for him, the Premier League will suit him well. I knew of him from watching him when he was at Ajax - he's very simple with his touches.
"He also sees the right pass at the right moment and is moving well, which makes him hard to pick up. For his position he has good qualities to perform."
Tottenham smashed their own transfer record on three occasions to sign Paulinho, Roberto Soldado and Erik Lamela but it seems it could be Eriksen that turns out to be one of the most important acquisitions.
Should the 21 year old can continue to excel and if he is able to match the performances of Ozil at Arsenal , then Spurs fans just end up with the bragging rights come the end of the season.