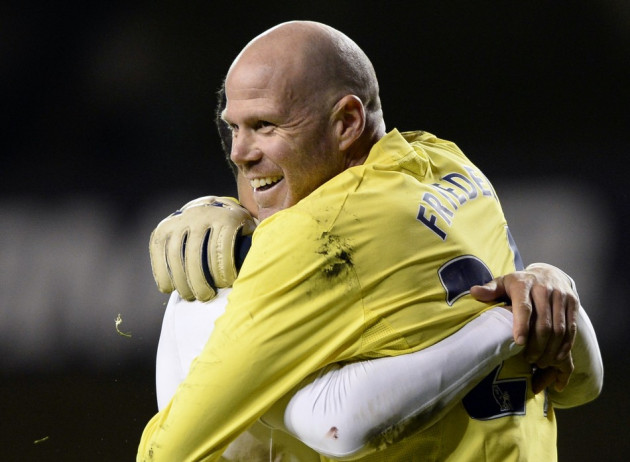 Brad Friedel is confident that Tottenham will start to fire on all cylinders after a miserable run in front of goal that has seen them score just nine goals in 11 Premier League games.
Spurs fell down to seventh in the table after once again failing to find the back of the net and suffering a 1-0 loss to Newcastle at White Hart Lane.
Only the two bottom sides Crystal Palace and Sunderland have scored fewer goals than the north London club who have now gone 300 minutes without scoring from open play in the Premier League.
Tottenham have been heavily reliant on penalties this season with Robert Soldado already finding the back of the net on three occasions from the spot, leading many to suggest that another striker could be signed in January.
However, Friedel is confident that Tottenham have enough quality within their squad and that they will soon turn around their fortunes.
"We have got so many quality players who have goals in them," Friedel told the Evening Standard. "I really do not think that, come the end of the season, our goal tally will be one of the lower ones.
"It will be right up there. We see the quality in training on a daily basis and it is not a lack of confidence or anything of that nature."
The American goalkeeper was handed a rare start after number one Huge Lloris was ruled out of action because of a blow to the head suffered in the game against Everton. Friedel could not prevent Loic Remy from scoring the only goal at the weekend but was left hugely impressed with his Newcastle counterpart Tim Krul.
The Holland international made a season high of 14 saves and Friedel was quick to praise his performance, though he feels Spurs were unfortunate to come up against a keeper in such good form.
"As a goalkeeper, we have all had days like that and he will be feeling like a million dollars. Balls were just hitting him or him making great saves," added Friedel.
"We could have scored six with the chances we had. We came up against a keeper in good form, it was not terrible finishing. We are creating so many chances and it will come good."