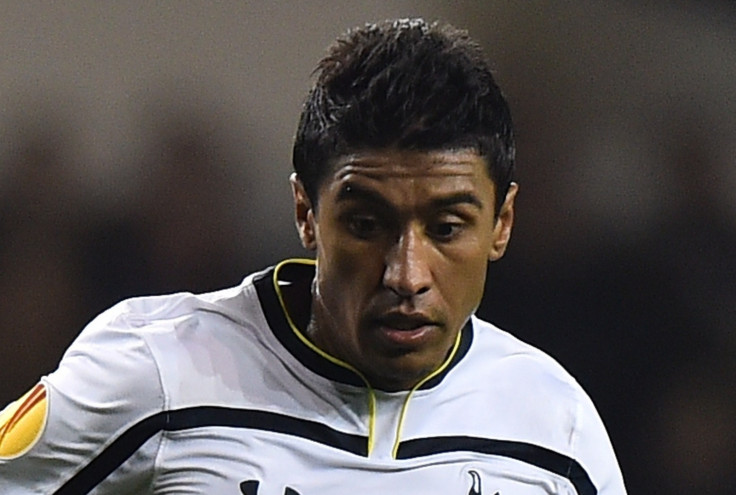 Tottenham Hotspur manager Mauricio Pochettino's prospective clear-out in the January transfer window has been given a kick-start after Corinthians highlighted their intent to re-sign marginalised midfielder Paulinho.
Pochettino has 30 senior players available to him and, in an effort to streamline the squad, is planning to offload several peripheral first-team players as the Argentine continues to pick up the pieces from Andre Villas-Boas and Tim Sherwood's spells in charge.
After performing a vital role in the Tottenham midfield during his first season at the club, five starts in all competitions this term have consigned Brazilian international Paulinho to a fringe role and he is expected to top the White Hart Lane exit list.
The 26 year old played in six of Brazil's seven World Cup matches including the harrowing 7-1 defeat to Germany in the semi-final, which is understood to have had a significant physical and mental effect on the player.
Paulinho said in November that despite spending just 18 months in north London, his dwindling opportunities at Tottenham could spark his departure from the club, and confirmed several Brazilian clubs were interested in his services.
Among those clubs are former side Corinthians, whose sporting director Edu Gaspar said: "The door is open for Paulinho as he is still very popular here. I don't think the financial package would be an issue."
Though reports indicate Pochettino's plans for a major clear-out next month, which include Andros Townsend, Aaron Lennon and Vlad Chiriches, centre around Paulinho's future. But in October, the manager denied the latter would be sent out on loan.
"No, no Tottenham player, including Paulinho, will be loaned to Brazil," he said. "There is no chance. Paulinho arrived late, one of the last players to join the squad after the World Cup. There isn't any problem. He is training and doing well, it's just a technical decision."
The problems affecting Paulinho since the World Cup have been in stark contrast to his international teammate Oscar, who is thriving in an unbeaten Chelsea side who are top of the Premier League table under Jose Mourinho.
Oscar endured a torrid end to the domestic season and a traumatic tournament in Brazil, but has scored four goals and made three assists in all competitions this season.
"It will be nice to see Paulinho," he told Chelsea's official website ahead of the Premier League clash between Chelsea and Tottenham at Stamford Bridge on Wednesday 3 December.
"He hasn't started a lot this season but he has been playing more often recently, mainly as a substitute, although he started their Europa League game last week.
"It's surprising because last season he played so well for them. We are good friends and our facilities meet up in London sometimes."