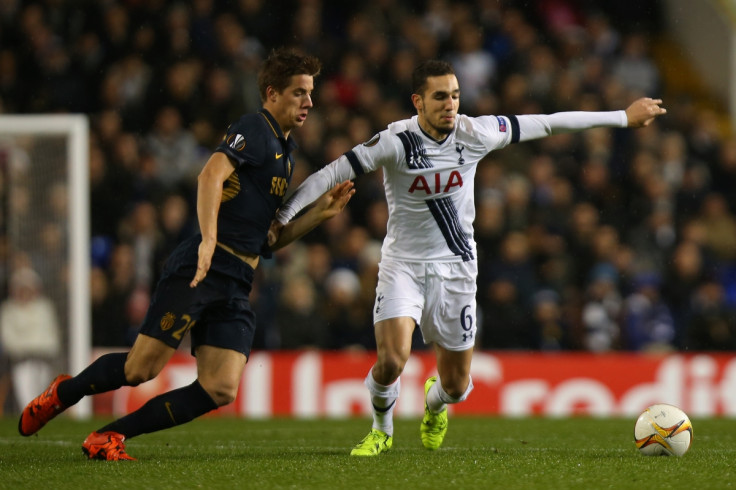 Tottenham Hotspur have dealt a new blow in the struggling season of Nabil Bentaleb after the midfielder has been forced to undergo a surgery in his left knee rule which will keep him on the side-lines for around six weeks. The 21-year-old will therefore miss most – if not all – of the last seven Premier League games of the campaign, with a crucial trip to Liverpool coming after the international break on 2 April just a week before the home game with Manchester United.
Bentaleb emerged as a crucial player for Mauricio Pochettino during the Argentinian boss's first campaign at White Hart Lane, earning a new deal last summer after forming an impressive partnership in the middle of the park alongside academy fellow Ryan Mason. However, the 21-year-old midfielder has failed to replicate that form during the current campaign after being hit by injuries since the beginning of the campaign.
The Algeria international played a part in the first four Premier League games of the season but an ankle injury suffered at the end of August 2015 and another minor problem sustained on international duty in November hampered the rest of his campaign. He has since made just one further appearance in the domestic competition, coming off the bench later during a 3-1 victory over Crystal Palace in January, while his latest presence for the first-team came in the Europe League 2-0 victory over Fiorentina on 25 February.
The situation is now unlikely to improve in the last crucial part of the campaign after Spurs have revealed that Bentaleb had been force to go under the knife after he suffered another injury while playing for the Under-21 side during the 3-0 victory over Leicester City on Friday 18 March, being replaced by Joe Pritchard earlier in the first half of the game.
"The Club can confirm that Nabil Bentaleb has today undergone surgery to his left knee," Tottenham confirmed. "The Algeria midfielder was forced off with the injury during our Under-21 Premier League fixture against Leicester City on Friday evening. The expected recovery and rehabilitation is likely to see him return to training in approximately six weeks."