Tottenham boss Andre Villas-Boas has urged UEFA to take action on those responsible for anti-Semitic chants at the club's Europa League game against Lazio at the Stadio Olimpico in Rome, Italy. The chants followed a violent attack on travelling fans that left nine wounded and one fan, Ashley Mills, 25, was reportedly admitted to the San Camillo Hospital.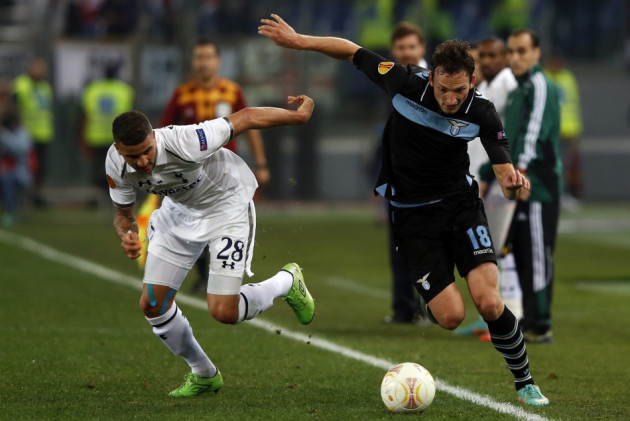 The attack, the Guardian's report stated, appeared to be a co-ordinated assault and involved at least one fan of Lazio's city rivals AS Roma, according to the BBC's report. Meanwhile, Lazio chairman Claudio Lotito disavowed all connection with his club's supporters and added he expected unexpected revelations as the investigation progressed.
The off-pitch attack was followed by what is reported as a series of anti-Semitic chants from a section of the club's supporters. Lazio were hosting Tottenham in an UEFA Europa League group stage match, which ultimately finished goalless. AVB confirmed he wanted UEFA to look into the incident.
"It will take another investigation. It happened last time and it was acted upon quickly by Uefa. We will have to wait and see if there is anything to act upon. If there is Uefa has to act," the former Chelsea boss explained.
There is a rapidly developing rivalry between Lazio and Spurs fans and the attack in the local pub follows a £32,500 fine handed to the Italian club, after improper conduct of travelling fans in the two clubs' reverse fixture at White Hart Lane.
As for the match itself, AVB conceded the Italians were once again the dominant team. The Premier League club needed summer signing Hugo Lloris to be at his best to keep the visitors in the hunt for progress to the next round of the tournament.
"It was a difficult game in terms of possession and Lazio put us under serious pressure," Spurs' Portuguese manager admitted, adding, "We started well, but towards the end of the first half we suffered a lot. They did very well. I think the draw is a good result for us."
Tottenham had few moments of cheer, with Welsh winger Gareth Bale's goal wrongly disallowed goal adding to that particular list in games between these two sides.
"Against Lazio we've had four goals disallowed. Two of them rightly and two of them not, maybe three," AVB said, "It's difficult to see decisions go that way but we move on. We take the result."
The manager also had words of praise for Lloris, who has had a difficult time playing regular first team football since his move from Ligue 1 club Olympique Lyon.
"He[Hugo Lloris]deserves our respect. In situations where we could have suffered, he was there for us. It was an extremely good performance, for sure," the coach told the club's official Web site.